Witch's Will
Something To Think About:
My Acticle Picks
Knucklehead Row
  by Andrew Klaven
Whatever its pretensions, whatever its claims, statism — progressivism, leftism, socialism — is based on the idea that a small elite intelligentsia can run your life better than you can. They know how to spend your money. They know how to educate your children. They know how to run your health care. They know how to protect you from yourself.
You do not have to talk to a statist very long before he will profess an intense dislike, distrust and even fear of ordinary people. Ordinary people spend money on what they want (TV's restaurants and cars) rather than what the elite know they ought to want (aluminum foil climate change reversers). Ordinary people teach their children that God created the world rather than a random pattern of mathematic realities that came into being through another random pattern that came… well, the elite know: it's random patterns all the way down! Ordinary people will give jobs and business to those who earn them rather than those the elite, in their greater understanding, know are historically deserving because of past oppression. And so on.
Now, of course, with the very elite of the elite running the country, we find that — what do you know? — this statism dodge doesn't really work all that well. And there are two reasons for this. The first is that the statist premise is wrong. In fact, ordinary people left at liberty to do as they will are actually better at running their lives and businesses and country than the geniuses in Washington. Central planning works great in the imaginations of the elite, but in the real world… not so much.
And the second problem is that the elite are stupid. No, really. They're educated and sophisticated and they dress well and speak well. They may even have high IQs. But in the immortal words of Forrest Gump's mother: "Stupid is as stupid does." And the elite are stupid.
Take the columnists at the New York Times. Or as I call them: Knucklehead Row. These guys look like smart people, they talk like smart people, they've got the trappings of smart people. But they are not smart. They are the opposite of smart. What's the word I'm looking for? Oh yeah. They're stupid.
more: http://pjmedia.com/andrewklavan/2014/10/19/knucklehead-row/?singlepage=true
Running Against Obama, Republicans Positioned for Midterm Sweep
Most of the battleground Senate races are trending in the GOP's direction, while Democrats are playing defense in the House.
 by Josh Kraushaar
In baseball, not long ago, there was a long-standing feud between scouts and number-crunching sabermetricians. Baseball traditionalists resisted the influx of new thinking into the game, while the data gurus too often adopted a dogmatic position that numbers always trumped personal reporting and observation. It quickly became obvious that the most successful teams are the ones that utilized a hybrid model—the best in scouting and statistics—and the Moneyball war in baseball subsided.
That's not all that different from what's happening in politics, where armchair pundits and number-crunching congressional-race modelers frequently overhype the latest polls, while downplaying the broader environment. They're directly related. The leading fundamentals of an election—presidential approval, right track/wrong track, and the congressional generic ballot, among them—are like "park effects" in baseball. If a hitter is playing in the thin air of Denver's Coors Field, it's much easier to hit a home run. Likewise, in a political landscape where the president is deeply unpopular, it's much easier for the messages of the other party's challengers to resonate, even if they're running weaker campaigns.
Republicans now are positioned to net between six and nine Senate seats in the upcoming midterms, with the higher end looking more likely. Most of the battleground Senate contests are now either trending in a Republican direction or remaining stable with a GOP advantage. Trailing in the North Carolina Senate race throughout much of the fall, Republican Thom Tillis has lately put Sen. Kay Hagan on the defensive by connecting her to the president's management of the ISIS threat and the outbreak of Ebola. In Colorado, GOP Rep. Cory Gardner has led in all of the six public polls released in October, with leads ranging from 2 to 6 points. Early voting data out of Iowa is looking favorable for Republican Joni Ernst, consistent with public polls showing her with a small advantage. The Cook Political Report recently moved the New Hampshire race between Sen. Jeanne Shaheen and Republican Scott Brown into toss-up status, indicative of polling showing Shaheen still ahead but with a rapidly narrowing lead. Outside of Kansas, political analyst Stuart Rothenberg now has Republicans holding an edge in all the red-state races, reflecting a nationalized environment against the party in power.
more: http://www.nationaljournal.com/against-the-grain/running-against-obama-republicans-positioned-for-midterm-sweep-20141020
Branco cartoon from Legal Insurrection http://legalinsurrection.com/
Predatory Journalism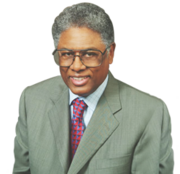 by Thomas Sowell
The New York Times is again on the warpath against what it calls "predatory lending."
Just what is predatory lending? It is lending that charges a higher interest rate than people like those at the New York Times approve of. According to such thinking — or lack of thinking — the answer is to have the government set an interest rate ceiling at a level that will be acceptable to third parties like the New York Times.
People who believe in government-set price controls — whether on interest rates charged for loans, rents charged for housing or wages paid under minimum wage laws — seem to think that this is the end of the story. Yet there is a vast literature on the economic repercussions of price controls.
Whole books have been written just on the repercussions of rent control laws in countries around the world.
These repercussions include the housing shortages that almost invariably follow, the deterioration of existing housing and the shift of economic resources — both construction materials and construction labor — from building ordinary housing for the general public to building luxury housing that only the affluent and the rich can afford, because that kind of housing is usually exempted from rent control.
There is at least an equally vast literature on the repercussions of minimum wage laws. Unemployment rates over 20 percent for younger, less skilled and less experienced workers have been common, even in normal times — with much higher unemployment rates than that during recessions
Against this background of negative repercussions from various forms of price control, in countries around the world, why would anybody imagine that price controls on interest rates would not have repercussions that need to be considered?
more: http://townhall.com/columnists/thomassowell/2014/10/21/predatory-journalism-n1907589
Yet there is remarkably little concern on the political left as to the actual consequences of the laws and policies they advocate. Once they have taken a stance on the side of the angels against the forces of evil, that is the end of the story, as far as they are concerned.
Media B S
AP: 'Troubles Clearly Aren't Over' For NBC's Snyderman Over Ebola Move
 by Matthew Balan
On Monday, David Bauder of the Associated Press spotlighted the ongoing controversy over NBC's Dr. Nancy Snyderman breaking her own quarantine, after she returned from West Africa to cover the Ebola outbreak.
Bauder underlined that Synderman's "quarantine against possible Ebola exposure ends this week…but the troubles clearly aren't over for NBC News' chief medical editor." He added that "NBC must now decide whether Snyderman's credibility is too damaged for her to continue reporting on Ebola or other medical issues and, if so, for how long."
Bauder also pointed out that the journalist's "admitted lapse in the quarantine, combined with a curiously imprecise explanation, unleashed a furious response." He cited an expert on journalistic ethics, who asserted that Dr. Synderman's "'arrogance and dismissiveness' create[d] a huge PR and credibility problem for NBC."
more: http://newsbusters.org/blogs/matthew-balan/2014/10/20/ap-troubles-clearly-arent-over-nbcs-snyderman-over-ebola-move#sthash.iVKSBWpN.dpuf
My Top Videos Today:
Holiday Inn Ebola Ad
Andrew Klaven on Obama
Anti-Begich Ad
Meet The Dim Dems
"Time" magazine today released a list of the 25 most influential teenagers. When they heard they made it on the list, every teenager had the same response: "What's a magazine?" ~ Craig Ferguson
Good Stuff:
Pro-Israel Protesters Disrupt Anti-Semitic Met Opera
Chants and boos mar Death of Klinghoffer's opening night
http://freebeacon.com/issues/pro-israel-protesters-disrupt-anti-semitic-met-opera/
Obama Takes Like Forever to Vote
 by Keith Koffler
http://www.whitehousedossier.com/2014/10/20/obama-takes-vote/
Obama Voters Struggle with Stockholm Syndrome
by John Ransom
http://finance.townhall.com/columnists/johnransom/2014/10/20/hillary-says-she-was-in-bills-cabinet-ransom-notes-radio-n1903582