Witch's Will
"As democracy is perfected, the office of president represents, more and more closely, the inner soul of the people. On some great and glorious day the plain folks of the land will reach their heart's desire at last and….the White House will be adorned by a downright moron." ~ H.L. Mencken – 1920
Something To Think About:
The News I Choose
America, You've Been Grubered!
by Kurt Schlichter
The most important effect of the revelations of the Administration's flunkies' history of cheesy lies about Obamacare is that liberals must now answer one threshold question before discussing the substance of any new socialist scheme:
Why should we trust anything liberals say about anything?
Grubergate is just one of the score of scandals, frauds, and failures that have destroyed any trust in this collection of creeps by anyone except the most leftist and the most stupid, two sets which, if graphed in a Venn diagram, would be represented by a single circle.
more: http://townhall.com/columnists/kurtschlichter/2014/11/24/america-youve-been-grubered-n1921636
What worse fate could have happened to arrogant asshat Gruber than to have his very name be the byword for dishonesty and lies. I'm sure in his heart dishonesty matters little. However for a weasel like this to have the world know what a dishonest little man he is it is a just, and I suspect long-lasting punishment. Just as it will be for Lois Lerner. By their words and deeds you will know them. And America, the smart part, has these arrogant, and oh-so-smart, people's number
Lincoln — or Schoolyard Bully?
Even some of Obama's allies cast a cold eye on his penchant for lawmaking.
by John Fund
President Obama held a private screening of the Steven Spielberg movie Lincoln at the White House in late 2012, and an ABC News reporter tweeted that Obama was "incredibly moved" by the movie, which depicts how President Lincoln used both high- and low-minded tactics to secure passage of the anti-slavery 13th Amendment. That screening may have set Obama on a path to his new unilateral executive actions to protect illegal immigrants from deportation.
Obama apologists, from Yale Law professor Bruce Ackerman to House Democratic leader Nancy Pelosi, are calling Obama's move akin to a modern version of Lincoln's Emancipation Proclamation.
 But there are other interpretations.
Saturday Night Live
ran a wicked
parody
of his moves, turning inside out the old 1970s
Schoolhouse Rock
skit on how a bill becomes a law.
"There's actually an even easier way to get things done around here, and it's called an executive order," Obama (played by Jay Pharoah) proclaims as he shoves cast member Kenan Thompson, who is dressed as a Bill, down the Capitol Steps.

Actor Bobby Moynihan then shows up smoking a cigarette and dressed as an Executive Order. He sings,

"I'm an executive order, and I pretty much just happen."
The "little boy" who is there to learn how government works then asks,
"Wait a second, don't you have to go through Congress at some point?"

"Aw, that's adorable, you still think that's how government works," Executive Order responds, as "President Obama" smirks nearby.
The Bill (Thompson) climbs back up the stairs to warn:
"Look at the midterm elections. People clearly don't want this."
Obama kicks him down the stairs again. It's Obama as a bully, unwilling to listen to others.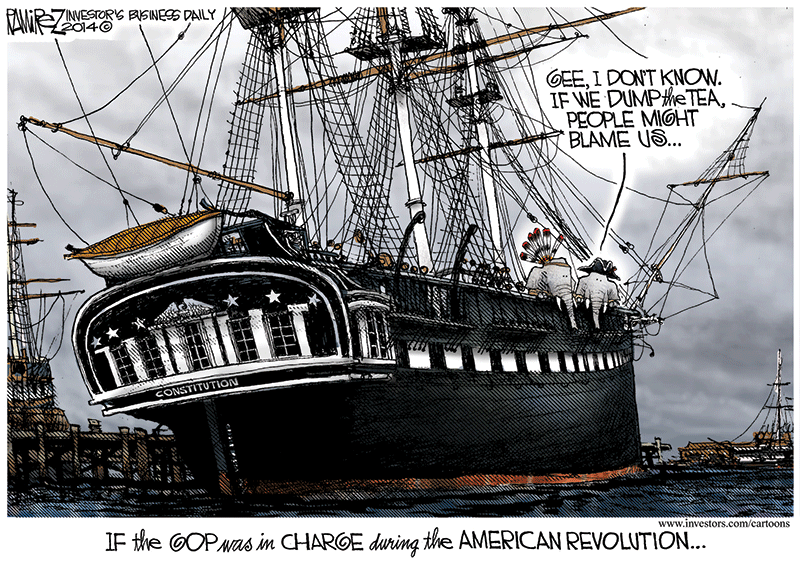 Ferguson needs facts, not passions
by Jonathan Turley
In anticipation of the decision on whether to indict officer Darren Wilson for the killing of Michael Brown, the town of Ferguson, Mo., is a virtual armed camp. Schools are closed. The National Guard was called out when the governor declared a state of emergency. The emergency? A grand jury announcement.
While most protesters have engaged in legitimate and lawful speech, others used the shooting of the black teenager by a white police officer as justification to loot the town. State and federal forces are assembling in Ferguson in expectation that some protesters will riot unless there is a criminal charge. Those who insist that "justice" can be found only in jail for Wilson are speaking not of real justice but mob justice.
After the fatal encounter on Canfield Drive, there was good reason for many to question the shooting of Brown. The 18-year-old was unarmed, and police say he had committed a minor theft before being stopped by Wilson. Given the continuing cases of the profiling and shooting of black males by police, there was ample reason for suspicion. However, there was also ample reason for caution before declaring Wilson was a murderer.
Dueling stories
Within hours of the shooting, two clear and equally plausible narratives emerged. From the police account, Brown attacked Wilson after the officer confronted him for blocking the street. In the ensuing struggle in the patrol car, Brown was shot when he grabbed for the officer's gun and then shot repeatedly outside of the vehicle. From the account of Brown's friend (and others), Wilson gunned down Brown after the stop without provocation, including shooting him when he had his hands in the air. Each account has one of the men acting in an unprovoked and violent manner. If either account is true, it will be determined through investigations, not demonstrations.
Rioters, who somehow rationalized looting as acts of moral outrage, weren't willing to wait for evidence. What is surprising is that national and local leaders showed the same impatience.
more: http://www.usatoday.com/story/opinion/2014/11/23/ferguson-justice-mob-rule-investigation-federal-role-stories-column/19457689/
Explaining Away Obama
by Victor Davis Hanson
The only mystery about the last six years is how much lasting damage has been done to the American experiment, at home and abroad. Our federal agencies are now an alphabet soup of incompetence and corruption. How does the IRS ever quite recover? Will the Secret Service always be seen as veritable Keystone Cops? Is the GSA now a reckless party-time organization? Is the EPA institutionalized as a rogue appendage of the radical green movement with a director who dabbles in online pseudonyms? Do we accept that the Justice Department dispenses injustice or that the VA can be a lethal institution for our patriots? Is NASA now a Muslim outreach megaphone as we hire Russia, the loser of the space race, to rocket us into orbit?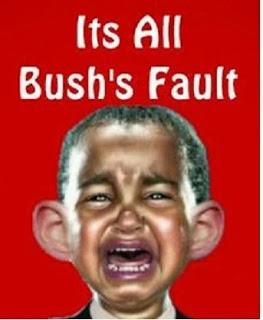 Will anyone again ever believe a U.S. red line, step-over line, or deadline? Will Iran ever accept that it should not have a bomb or fear the consequences of trying to get one? Is Iraq (omnis effusus labor) a sort of rescued Eurydice that was abruptly lost on the trek up from the Underworld? Will Afghanistan become Saigon, 1975? How could Putin ever again be worried about offending a U.S. president, or could China or North Korea? Are we now always to be allies of Islamist Turkey and indifferent to its enemies like our once-allied Kurds, Cypriots, Greeks, and Israelis?
Will the economy ever again grow as it should? Will disability, food stamp, and welfare recipients jump back into the workforce should we frack on federal lands, build the Keystone pipeline or quit berating private enterprise?
Every statistic that Obama has produced on Obamacare enrollment, deportation, unemployment and GDP growth is in some ways a lie. Almost everything he has said about granting amnesty was untrue, from his own contradictions to the congressionally sanctioned small amnesties of prior presidents. Almost every time Obama steps to the lectern we expect two things: he will lecture us on our moral failings and what he will say will be abjectly untrue.
I hope we can all recover, but it would require an honest autopsy of a failed presidency. So far, progressives assume that the media and Obama's whining, blame-gaming and finger pointing can somehow return him back to a 50% approval rate and perhaps even a face-saving legacy. The result is that progressives, the media, and the Obama cohort have promulgated an entire series of excuses for what is a failed tenure like few any in the last century.
more: http://pjmedia.com/victordavishanson/explaining-away-obama/?singlepage=true
Media B.S.
AP Fact Check Finds Obama Grubered Immigration Speech
by P.J. Gladnick
The Associated Press is not known as being normally critical of Barack Obama therefore it was quite surprising that their fact check found the President's speech last Thursday taking unilateral action to halt deportations of illegals to be chock full of Gruber. Here is a list of the Gruberisms the AP found in Obama's speech
OBAMA: "It does not grant citizenship, or the right to stay here permanently, or offer the same benefits that citizens receive – only Congress can do that. All we're saying is we're not going to deport you."
THE FACTS: He's saying, and doing, more than that. The changes also will make those covered eligible for work permits, allowing them to be employed in the country legally and compete with citizens and legal residents for better-paying jobs. Perhaps Obama was counting on the "stupidity of the American voters" not to notice. Okay, next Gruberism:
OBAMA: "Although this summer, there was a brief spike in unaccompanied children being apprehended at our border, the number of such children is now actually lower than it's been in nearly two years."
THE FACTS: The numbers certainly surged this year, but it was more than a "brief spike." The number of unaccompanied children apprehended at the border has been on the rise since the 2011 budget year. That year about 16,000 children were found crossing the border alone. In 2012, the Border Patrol reported more than 24,000 children, followed by more than 38,800 in 2013. In the last budget year, more than 68,361 children were apprehended.
more: http://newsbusters.org/blogs/pj-gladnick/2014/11/22/ap-finds-obama-grubered-immigration-speech
My Top Videos Today:
SNL Mocks Obama for Ignoring Midterms, Constitution
<*><*><*><*><*><*><*><*><*><*><*><*>
Bad News for Hillary: Obama Says 2016 Voters Will Want 'That New Car Smell'
<*><*><*><*><*><*><*><*><*><*><*><*>
An Imperial Presidency
Meet The Dimmest Donks
The Gruber Donk

The FCC is ready to get sued over Net Neutrality
by Amy Miller
Net Neutrality has existed for a long time in the nerd-niche of the policy world, but now that Obama has asked the FCC to impose strict new regulations on internet service providers, the issue has jumped out of the shadows and into the forefront of public debate.
"Net Neutrality" provisions—new regulations that would use the authority of Title II of the Communications Act of 1934 to prevent internet service providers from granting preferential treatment to different types of online content—are controversial, and have already spurred lawsuits from companies like Verizon who are loathe to cede control of their services to the government, and the FCC is preparing for another onslaught.
Via Ars Technica:
"We are going to be sued," he said in a Q&A after the FCC's monthly meeting. "That's the history. Every time in this whole discussion any time the commission has moved to do something, one of the big dogs has gone to sue… We don't want to ignore history. We want to come out with good rules that accomplish what we need to accomplish, an open Internet, no blocking, no throttling, no fast lanes, no discrimination, and we want those rules to be in place after a court decision. So we want to be sure we're thoughtful in the way in which we structure them and we're thoughtful in the way we present what will ultimately be presented to a court."

Verizon sued to block rules passed under Wheeler's predecessor, Julius Genachowski, and has already threatened to sue the FCC over new rules under consideration. AT&T has threatened to sue as well.
Those who support Net Neutrality worry that not having a clear line in the sand will allow large corporations to throttle content from smaller content providers (read: content providers who don't have piles of money to offer up) and create an unequal playing field for the kinds of free speech the internet is so famous for. But as the great people over at Tech Freedom have explained, this desire for a bright line rule ignores the reality and nature of online content:
…such a broad-sweeping rule against discrimination would do great harm, because it fails to account for a key facet of the Internet: some bit traffic is qualitatively different than others, because some is bursty (like web-browsing) and some requires sustained bit streams (like VoIP calls). Thus, while "neutrality" of treatment would perhaps be warranted when comparing like services (i.e., apples to apples), when comparing unlike services (i.e., apples to oranges), mandating neutral or equal treatment could do significant harm to both. In recognition of the fundamental differences between different forms of bit traffic, Internet engineers developed, among other tools, the Differentiated Services (DiffServ) set of protocols, which were designed to enable differential treatment of bit traffic in real-time. And by allowing ISPs and transit providers the capability to treat some bits differently than others, the Internet itself can work smarter, faster, and better for all parties in the online ecosystem.
The reality of the situation is that the FCC doesn't have to do what the President says; then again, this fight isn't new, and the FCC has been trying to impose new regulations on ISPs for years. They understand that certain types of content prioritization can be beneficial to consumers, but are also under enormous pressure from activists and the White House to "end discrimination on the internet" and reach the long arm of government into the workspace of service providers.
And when you start throwing words like "discrimination" into the mix, you can bet that any agency that works closely with the Obama Administration is going to have no choice but to spit out new restrictions on providers. Lawsuits are much easier to deal with than the boycotts of an angry mob—whose members also know quite a bit about what makes the internet go…and how to stop it.
more: http://legalinsurrection.com/2014/11/the-fcc-is-ready-to-get-sued-over-net-neutrality/
After signing a contract for $325 million this week, Marlins player Giancarlo Stanton celebrated with a $20,000 bottle of Champagne. So let the road to inexplicable bankruptcy begin! ~ Jimmy Fallon
Branco cartoon from Legal Insurrection http://legalinsurrection.com/
There will be no Kardashian family Christmas card this year because they couldn't decide on an appropriate photo. I thought, when did the word "appropriate" ever have anything to do with that family?
Good Stuff:
The Benghazi Cover-Up Continues
by Daniel Greenfield
A diplomatic mission was slapped down in the middle of a city controlled by terrorists. The diplomatic mission was left mostly undefended, despite multiple requests by everyone in Libya right up to the deceased ambassador, except by a militia gang linked to Al Qaeda which wasn't getting paid.
At a time when the State Department was spending fortunes on bad art, on Kindles at the bargain price of $6,000 a reader, not to mention renovating the mansion residence of a political donor/ambassador in Europe who would be the subject of yet another cover-up after being accused of pedophilia (but not before causing a public scandal by blaming anti-Semitism on the Jews) there was no money for securing a diplomatic mission that was so far behind enemy lines it might as well have been in the middle of Iran.
And again it was no one's fault. Despite multiple whistleblowers from the State Department coming forward, most of them left of center types who wouldn't spit on a Koch Brother, the panels and committees wrote the establishment a blank check.
It was no one's fault. Anyone who disagreed with the assertion that the murder of four Americans might be someone's fault was a right-wing conspiracy theorist. Anyone who thought that we should listen to the testimony of Gregory Hicks, the highest ranking diplomat in Libya after Ambassador Stevens was killed, or to Ambassador Stevens' own messages asking for more security, was a crazed nutjob.
Only a lunatic would think this might be someone's fault.
more: http://www.frontpagemag.com/2014/dgreenfield/the-benghazi-cover-up-continues/