Witch's Will
Quote of the day:
Cartoon of the day
Articles of Interest
When can you legally use a gun against an unarmed person?
 Legally, it doesn't matter that both Mike Brown and Trayvon Martin were "unarmed" when shot to death.
 by Andrew Branca
One of the most common laments to come out of Ferguson these last days has been that surely it was outrageous for Office Darren Wilson to use his service pistol to shoot an "unarmed" Mike Brown. (Earlier iterations of this narrative went further in their misinformation, describing the 18-year-old 6'4″ 292 pound Brown as a "kid" or "child," as well as falsely claiming that Wilson shot Brown in the back, but such misinformation falls outside the scope of this post.) Similar arguments were made in the context of the shooting by George Zimmerman of the "unarmed" Trayvon Martin.
The notion that a defender may use a firearm in self-defense only if they themselves are faced with a firearm is entertainingly naive, but has no basis in actual law, nor in common sense.
In the eyes of the law a gun is not some magical talisman of power, it is merely one of perhaps an infinite number of means of exerting force. Legally speaking the law tends to divide force into two broad buckets: non-deadly force and deadly force. There is some stratification in the context of non-deadly force–a poke to the chest is not the same degree of non-deadly force as a punch to the face–but really none whatever in the context of deadly force. Deadly force is simply deadly force. For purposes of conciseness, I limit this discussion to cases in which deadly force is involved, as was the case in both Ferguson and Zimmerman.
Deadly Force: Force Likely to Cause Death or Grave Bodily Harm
It should also be noted that when the legal system uses the phrase "deadly force," it is not merely referring to force than can literally cause death. Of course, force likely to cause death qualifies, naturally. But the law's view of "deadly force" is broader than the phrase might suggest. In fact, "deadly force" includes BOTH force likely to cause death, as well as force likely to cause "grave bodily harm."
We all understand "death," but what could possibly be meant by "grave bodily harm."? Typically, grave bodily harm means something along the following lines: the temporary loss of an important bodily function/organ, the permanent loss of even a minor bodily function/organ, maiming, rape, or debilitation to the point of defenselessness.
Note, also, that under the law of self-defense, NONE of these must ACTUALLY be experienced by the victim before the victim can lawfully respond. Rather, there must be an imminent threat of one of these occurring, as perceived by a reasonable and prudent person, in the same or similar circumstances, possessing the same or similar capabilities as the defender, having the same or similar knowledge as the defender, and experiencing the same or similar mental stress as would a defender being threatened with such harm.
more: http://legalinsurrection.com/2014/08/why-use-of-a-gun-can-be-lawful-even-against-an-unarmed-person/
Obama's Miserable Failure
 by Daniel Greenfield
It was always obvious what Obama's supporters wanted. They weren't willing to settle for a Hillary, just another politician who would punch the clock, deliver tepid speeches and push their leftist agenda.
They wanted someone larger than life. A head made for Mount Rushmore and a body that would be cast in statues across the country. Speeches meant to be studied in classrooms for the next hundred years.
They compared him to JFK and Reagan. He was treated as the icon that his backers wanted him to be. His election was supposed to be a watershed moment in American history.
Instead it ends in miserable failure.
At home, Obama is caught in a desperate tug of war with Republicans. He won the budget battle by sending park rangers to shut down national monuments. His last ditch gamble for holding on to the Senate is using racial tensions in Ferguson to promote black voter turnout.
And if he wins, all he'll have is what he has now.
This is how shoddy and tawdry the reality of Hope and Change has become. Trapped in a corner, Obama is dragging out the dirtiest Chicago politics. He's trying to hold off the inevitable by using the same types of tactics that the crooked mayor of his hometown would.
There's no inspiration here. No words that will resound across time. Just dirty rats on a sinking ship.
more: http://www.frontpagemag.com/2014/dgreenfield/obamas-miserable-failure/
I really loved the entire article but these 3 short paragraphs really got me cheering:
Obama is Fareed Zakaria. He's Thomas Friedman. He's Paul Krugman. He read all the books and he talks a good game so that it's easy to miss the fact that his ideas don't have much to do with real life.

Friedman babbling about the flattening world, Krugman pretending that money is infinite and Zakaria jumping from one ridiculous globalist idea to another sound good in a lecture hall or a column.

But only an idiot would actually listen to them.
Applause Daniel Greenfield, applause!
Restricting 'Choice': California Dictates That its Employers Cannot Refuse to Cover Elective Abortions
 by Tom Blumer
This "choice" thing with abortion is really the narrowest of one-way streets.
Seven robed men decided in 1973 that a woman has a "privacy" right to "choose" to take the life of a pre-born baby she is carrying, the God-given right to life of the baby be damned. But the radicals in Jerry Brown's government in the State of California have now mandated that all employers in that state, even those with religious affiliations, do not have a choice as to whether they will cover abortions in their health plans. It's funny, but certainly not in a humorous sense, how certain states' attempts to limit the practice routinely make national news, while this blatantly coercive dictate by California has barely been noticed.
The Associated Press did carry a story at its national site (a backup link is here). But it was not widely picked up. Additionally, a Google News search on "California elective abortions" (not in quotes, sorted by date, showing duplicates) returned about 55 items, almost all of which were from news outlets within the state or prolife and religious publications.
Here are excerpts from the unbylined AP item (bolds are mine throughout this post):
CALIFORNIA: INSURERS MUST COVER ELECTIVE ABORTIONS

Health insurance companies in California may not refuse to cover the cost of abortions, state insurance officials have ruled in a reversal of policy stemming from the decision by two Catholic universities to drop elective abortions from their employee health plans.

Although the federal Affordable Care Act does not compel employers to provide workers with health insurance that includes abortion coverage, the director of California's Department of Managed Health Care said in a letter to seven insurance companies on Friday that the state Constitution and a 1975 state law prohibits them from selling group plans that exclude the procedure. The law in question requires such plans to encompass all "medically necessary" care.

"Abortion is a basic health care service," department director Michelle Rouillard wrote in the letter. "All health plans must treat maternity services and legal abortion neutrally."

Jesuit-run Santa Clara University and Loyola Marymount University notified employees last fall that they planned to stop paying for elective abortions, but said faculty and staff members could pay for supplemental coverage that would be provided through a third party. The two schools said their insurers, Anthem Blue Cross and Kaiser Permanente, had cleared the move with the state.

University employees who objected to the decision and abortion-rights groups lobbied the women' caucus of the California Legislature, which in turn asked Gov. Jerry Brown to clarify and reverse the health care department's determination.
There are at least four unsettling elements to this story beyond what California has done — beyond the fact that Jerry Brown still calls himself a Catholic, which is a joke.
First, why was abortion coverage ever allowed in the first place at these schools?
more: http://newsbusters.org/blogs/tom-blumer/2014/08/31/restricting-choice-state-dictates-california-employers-cannot-refuse-cov
When liberals tell you that they are "pro-choice" they are lying. They do not want to give you any choice in the matter. I thought I was "pro-choice" most of my life. Now, I'm not so sure.  I thought it was a matter of allowing a woman to make the "choice". I also thought it was a choice that would be made long before the "fetus" was a viable "baby".  What kind of idiot would do otherwise? Evidently the kind of idiot that isn't on birth control – of wait that's something else the rest of us should pay for too. Evidently the idea of just keeping the panties up never enters their irresponsible little minds.
Now I realize that the "pro-choice" crowd is actually "pro-abortion" and do not want to allow those who do not agree any choice. They also want those who do not agree to pay for the abortions. Doesn't seem like much of a choice to me.
Were I an employer in California I would instantly drop all insurance for my employees. Will the innocent suffer with the guilty? Probably. But the innocent, or many of them, are Democrats who vote for the pro-abortion politicians. Thus they need to pay for what they've done.
I am not longer "pro-choice" if it means that those who do not agree with the murder of innocents must pay for that crime. And any late-term abortion is, IMO, a crime. It's murder. It's infanticide. And pretty words about freedom and "choice" don't make it anything else.
When did women become so disgusting? I actually thought we were the moral superiors of most men. Now? Not so much. I am also thoroughly disgusted with the thought of the likes of Brown, Pelosi, Biden and others calling themselves Catholics. They are not. And long past time the church refuses them sacraments they do not deserve.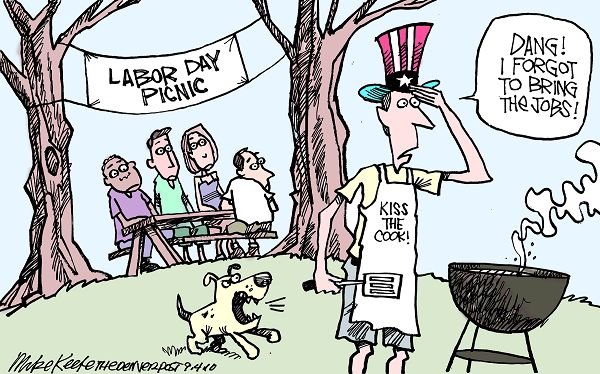 Think About It

The Ebola of Journalism: Liberalism is Killing Time and CNN
Call it the Ebola of Journalism. And its spreading — to Time and CNN.
The cover of the September 1, 2014 issue of Time could not be more explicit. Showing a dramatic image of a black man on his knees, hands raised with the cover bearing the title "The Tragedy of Ferguson," it was written by David Von Drehle and Alex Altman in the tones of the standard liberal "I-told-you-so" thinking on race . It included the line: "We've been here before—and failed to learn the lessons."
When it came to the mess that is ObamaCare? There was this Time cover admitting the launch of HealthCare.gov was a disaster but presenting "the team that figured out how to fix it." (You do know ObamaCare is fixed, right?)
And don't forget all those gushing Obama covers like this one in 2007. As reported by NBC in December of 2008 that in all of that year "Time has featured Obama on its cover 14 times since
Jan. 1. Newsweek was close behind, featuring the now-president-elect on 12 of its issues. Time has had 52 issues in 2008, so Obama has been featured on more than one-in-four of its covers, or about 27% of the time."
Suffice to say, the covers were overflowing with praise for Senator, presidential candidate and president-elect Obama. This one lavished praise on the post-election Obama by Photoshopping him as Franklin D. Roosevelt, with writer Peter Beinart gushing about "The New New Deal."
more: http://newsbusters.org/blogs/jeffrey-lord/2014/08/30/ebola-journalism-liberalism-killing-time-and-cnn#ixzz3C4IC5tUh
Gotta tell ya when a grown man "gushes" I imediately stop listening. A grown woman too. Save the gush for the teenagers and let us regard people, especially politicians with a jaundiced, if not cynical eye. If they prove worthy of our regard all is well – if they don't then we don't look like fools for supporting someone who is just another trash POS that got himself/herself elected by lying to the voters. And when the lies were shown, probably got re-elected by the same stupid voters.
Pogo was right:

Watch

This:
Engel: Growth of ISIL Was 'Incredibly Predictable'
Auditor that Accredited VA Hospitals Where Patients Died to Review Same Hospitals
Veterans want independent authority to investigate
The same independent auditor who accredited Veterans Affairs hospitals where multiple patients died from delays in care—and in some cases named them as "top performers"—has been chosen by the VA to complete a new review of those same hospitals.
Earlier this month, new VA Secretary Robert McDonald announced that the Joint Commission, a
hospital accreditor, would review scheduling practices across the VA system.
"VA is committed to instilling integrity into our scheduling practices to deliver the timely care that veterans deserve," McDonald said in a statement. "It is important that our scheduling practices be reviewed by a respected, independent source to help restore trust in our system, and I'm grateful to the Joint Commission for taking on this critical task."
Since VA Secretary Eric Shinseki resigned in the wake of the national VA scandal, the VA has taken steps to repair its image and address the serious, sometimes deadly, lapses in accountability across the VA system.
However, the Joint Commission is the same auditor that accredited VA hospitals before the national scandal broke, and while hospitals were using secret waiting lists.
more: http://freebeacon.com/issues/auditor-that-accredited-va-hospitals-where-patients-died-to-review-same-hospitals/
Are we surprised to find that the "new boss" is the same as the "old boss"? Did we really expect that after the outrage died down and the abuses at the VA were no longer front page news that anything would change? All the politicans make big promises. We know that you cannot trust anything a politicans says because they are liars by profession. And their actions, and inactions, prove this too be true. And by our actions, re-electing the liars, and inactions, not holding them responsible, we are as guilty as they.
Think About It
It's Labor Day weekend. Labor Day, of course, is a holiday where people take three days off from being unemployed.
Worth A Look
The Making of "Latinos"
How non-Hispanic elites decided they were in charge of what 'Latinos' are called.
link: http://thefederalist.com/2014/08/29/the-making-of-latinos/
Obama's "Strong Disapproval" Double His "Strong Approval"
Republicans are more likely to strongly disapprove now than in 2010
link: http://www.gallup.com/poll/175529/obama-strong-disapproval-double-strong-approval.aspx
Cash for Clunkers: How bad public policy gets made
  by John Sununu
link: http://www.bostonglobe.com/opinion/2014/08/31/cash-for-clunkers-how-bad-public-policy-gets-made/LStZtMRqTNKxAc62sYP4fM/story.html
 The New York Times ripped President Obama for going golfing after he announced the murder of the U.S. reporter in Iraq by ISIS. He went straight from the podium to join his foursome on the first tee. It's so sad, foursomes had a completely different meaning when Clinton was president.
Last But Not Least…
Mythologies and Pathologies of the California Drought
 by Victor Davis Hanson
The third year of California drought has exposed all sorts of water fantasies. If in wet years they were implicit, now without rain or snow for nearly three years, they are all too explicit. Add them up.
Take the Bay Area, Ground Zero of water environmentalism. From Mill Valley to San Jose is where
most of the green activists are based who have demanded, even as the snowfalls and rains ceased, that reservoir storage waters be diverted to the sea to encourage the resurgence of the delta smelt and river salmon. The Bay Area's various earlier lobbying groups long ago helped to cancel the final phases of the California State Water Project and the Central Valley Project, and now talk about reducing world carbon emissions rather than building more storage capacity to solve California's water crisis.
How odd that is — given that the San Francisco greater community has almost no aquifer to supply its millions. Environmentalists count instead solely on vast water transfers from the far distant Hetch Hetchy reservoir to supply the nearly three million water users of the Bay Area with their daily showers and lawn irrigations.
The brilliantly engineered project supposedly had ruined a Yosemite Park valley greater than its more famous counterpart below Half Dome and El Capitan. Odder still, the Hetch Hetchy conduits run right across the San Joaquin River that environmentalists are intent on supplying with reservoir water long ago designed for irrigated agriculture. When most Bay Area drivers cruise along the I-280 by the full-to-the-brim Crystal Springs Reservoir they have not a clue that the lake would be little more than a muddy slough of scant local runoff, without the importation of thousands of acre-feet of clean water from the Hetch Hetchy project. Nor do they grasp the greater irony that they have reservoir water to divert to fish only because someone else built the reservoirs that they near automatically oppose. Consider the logic: don't dare build an unnatural reservoir to irrigate food lands; but if you dare build it over my opposition, I want the ensuing banked water to ensure the rivers run year-round for my fish projects — given that before your artificial reservoirs the rivers sometimes had a bad natural habit of running dry and suffocating my fish.
Could not Bay Area professors, journalists and politicians shower once a week or let their garden foliage die on the greater sacrificial altar of diverting Hetch Hetchy water into the San Joaquin River to save the smelt or facilitate salmon runs? After all, at least farmers can claim they are producing food for the masses with reservoir water. But what do Facebook and Apple techies claim — that without a verdant garden they cannot design social networking? In 1990 there was no Facebook or Google and people continued to live; without food they cannot at any time.
A larger point is that 70% of Californians prefer to live in places like the naturally arid seaside resorts of San Diego, Santa Monica, Malibu, Santa Barbara, San Luis Obispo, Monterey, Carmel, Santa Cruz, and the Bay Area, coastal communities whose growth long ago both outpaced the local aquifers and Coast Range small reservoirs, and thus required water transfers from wetter environs.
more: http://pjmedia.com/victordavishanson/the-california-drought/?singlepage=true