🤡 The Jim Acosta Show 🤡
News Networks and News people are not supposed to be the story. They are supposed to report the news – not be the news. Alas CNN, finding itself lagging so far behind in the ratings that even H & G's First Time Flippers ranks above them needs to be the news. They need to draw some attention to themselves.
And who better to do that then their very own clown: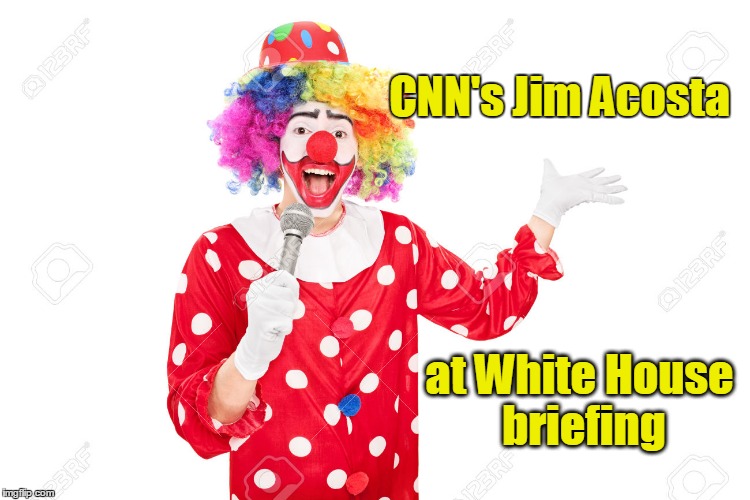 For weeks the "news" has been all about Jim Acosta and CNN.
Not that the "news" isn't often about Acosta since that's the way he obviously prefers it. A grandstanding showboat with delusions of grandeur lacking integrity, intellect and talent. And yet there he is front and center in the "News."
If you have been lucky enough to have been visiting a distant planet and haven't heard about the Jim Acosta show:
CNN's Jim Acosta struggles with White House aide to keep microphone during testy Trump exchange

Acosta and Trump got into a heated debate after the reporter asked him about the migrant caravan. Trump told Acosta to let him do his job.

"Honestly, I think you should let me run the country and you run CNN," Trump told Acosta.

The reporter tried to ask him another question before a female White House aide walked over to him.

Trump then told him, "That's enough!"

Acosta continued to try to talk as the aide was seen trying to take the microphone from his hand. She grabbed the microphone but Acosta wouldn't give it up.
In case you didn't notice the two "questions" Acosta asked weren't so much "questions" as Acosta's opinion and phrased in the have you stopped beating your wife mode CNN uses so often with Trump.
The next chapter in the Acosta melodrama was:
CNN's Jim Acosta Denied Entrance to the White House, Press Access Revoked

CNN correspondent Jim Acosta was denied entry to the White House on Wednesday following a heated exchange with President Trump at a press conference.

"I've just been denied entrance to the WH," Acosta wrote on Twitter. "Secret Service just informed me I cannot enter the WH grounds for my 8pm hit."
"Hit" would be the operative word here.
And the melodrama continued:
CNN files lawsuit against Trump administration over Jim Acosta's White House credentials

CNN filed a lawsuit against the Trump administration Tuesday morning demanding the return of the White House credentials of Jim Acosta, CNN's chief White House correspondent. The White House last week suspended Acosta's "hard pass," which allows him press access to the White House, hours after he sparred with President Trump at a press briefing.

CNN says it has asked the court for an immediate restraining order requiring the pass be returned to Acosta, and will seek permanent relief as part of this process.

The suit was filed in D.C. District Court.
The clown show continues:
Judge orders White House to reinstate Acosta's press credentials

A federal judge on Friday ordered the Trump administration to reinstate press credentials for Jim Acosta, CNN's chief White House correspondent.

U.S. District Judge Timothy Kelly, who was appointed to the bench by President Trump, granted CNN's request to restore the press pass for Acosta, giving him regular access to the White House grounds to cover events and press conferences.

"I want to emphasize the very limited nature of this ruling," Kelly said Friday in granting the temporary restraining order in favor of CNN.

After the ruling the White House said

it will abide

by a federal judge's order to restore CNN reporter Jim Acosta's press pass, but insisted "there must be decorum at the White House."

Kelly did not rule on whether the administration violated CNN and Acosta's First Amendment rights. The network and Acosta are arguing that the administration didn't like the questions Acosta asked and therefore revoked the pass, committing what's known as viewpoint discrimination, which is prohibited by the First Amendment.
In spite of the victory laps being taken by Acosta, CNN and the rest of the Trump hating MSM this was a TRO, a temporary restraining order, and a very narrow ruling. It had NOTHING to do with 1st Amendment rights. It was about the 5th Amendment.
Jim Windolf, media editor of The New York Times, was among those expressing caution after Judge Timothy J. Kelly granted a temporary restraining order blocking the White House's revocation. "Subtext of the judge's order: You can kick a reporter out of the White House, but there are procedures you have to follow," Windolf tweeted. 
In a hearing in D.C. federal court, Kelly ruled that the government violated Acosta's Fifth Amendment right to due process when it rescinded his White House press credentials following Trump's contentious news conference the day after the midterm elections. The ruling signals that Acosta is likely to prevail on the merits of his Fifth Amendment case, as the White House did not properly give notice, explanation, and an opportunity for rebuttal, as the D.C. Circuit Court of Appeals had said was necessary in a similar case decided more than 40 years ago. Kelly explicitly did not rule on Acosta's claim that his First Amendment rights had been violated.
The number of people who were eager, to go on the record mendaciously is staggering.
Columbia University's Knight First Amendment Institute called the ruling a "victory for press freedom."

"We need reporters to be able to ask tough questions in these press briefings without having to fear that their access will be revoked as a result," Jameel Jaffer, the Knight Institute's executive director, said in a statement. "The First Amendment forecloses the White House from selectively revoking access on the basis of a reporter's viewpoint."
Again, Judge Kelly's ruling had nothing to do with the 1st Amendment – it was the 5th Amendment.
Judge Kelly: " I have not determined that the First Amendment was violated here; I have not determined what legal standard would apply to the First Amendment claim here; I have not determined the specific nature of the First Amendment interest that Sherrill recognizes — or that Sherrill at least doesn't describe but recognizes, yes; and I haven't determined what portions of Sherrill, if any, would bind me on those questions."
White House Announces New Rules For Press Conferences After Acosta's Antics

The White House outlined the following four new rules that reporters must abide by at press conferences:

1. A journalist called upon to ask a question will ask a single question and then will yield the floor to other journalists;

2. At the discretion of the President or other White House official taking questions, a follow-up question or questions may be permitted; and where a follow up has been allowed and asked, the questioner will then yield the floor;

3. "Yielding the floor" includes, when applicable, physically surrendering the microphone to White House staff for use by the next questioner;

4. Failure to abide by any of rules (1)-(3) may result in suspension or revocation of the journalist's hard pass.
And on it goes…
I wish you a good day and distance from such foolishness as I've addressed here today.
Be well.
This Is An Open Thread