There was a time when I spent every Sunday morning glued to the television to watch the Sunday Morning political talk shows. Those days are long past. Once they lost all pretense of fairness or honesty I lost all interest. Now I search out things that interest me. Am I biased? I am. But I admit it and I still want the truth even if it isn't a truth I like. Media might try that sometime.
Some articles and cartoons I found interesting.
---
---
Derek Hunter: What Are Democrats So Afraid Of?
Mention voter fraud near a liberals and you'll see Pavlov's Basic Principles of Classical Conditioning in action. "There is no voter fraud," they'll instinctively say, then expect a treat. But is there something more behind their reaction than groupthink?
https://townhall.com/columnists/derekhunter/2017/09/03/what-are-democrats-so-afraid-of-n2372284
---
---
 Jonathan Turley: The hypocrisy of Antifa 
The University of California in Berkeley was again the scene of violence recently, as protesters claimed license to silence those with whom they disagree. Their fight against "fascism" took the form of not just stopping a speech, but assaulting those who came to hear it.
For those of us at universities and colleges, these counter-demonstrators, and in particular the masked antifa protesters, are a troubling and growing presence on our campuses. They have been assaulting people and blocking speeches for years with relatively little condemnation. They flourish in an environment where any criticism is denounced as being reflective of racist or fascist sentiments.
http://thehill.com/blogs/pundits-blog/civil-rights/348389-opinion-antifa-threatens-to-turn-america-into-an
---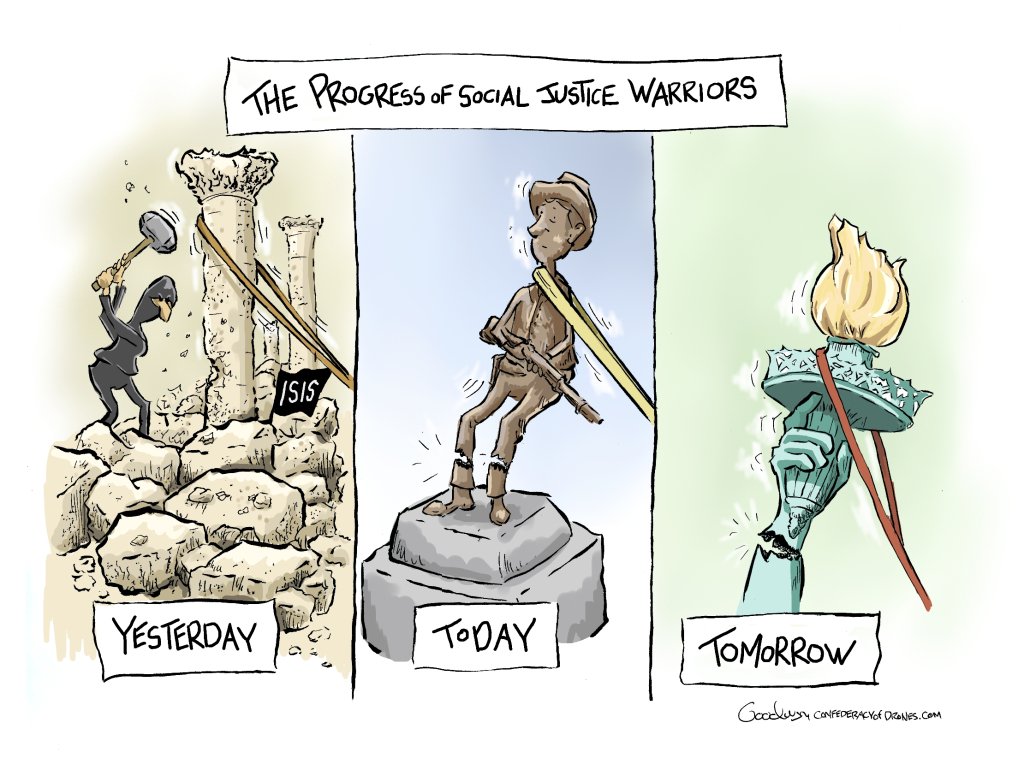 ---
Liberals Don't Get To Have It Both Ways With White Americans 
Do you think I'm overselling how anti-white liberals (even white liberals) have become? If so, here are just a few recent headlines.
Affinity Magazine wrote, "Actually… Straight White Men Are the Root of Our Problems." The Root put out an article called "Polite White People are Useless." A Boston University scholar said "Stephen King's 'It' Is Bad Because It's Full Of 'White, Straight, Able-Bodied' Males." CNN also blamed ordinary people for being "white supremacists by default." There were people on Twitter hoping Hurricane Harvey would help "cleanse" Texas of white people.
Then there was this comment from Munroe Bergdorf, the first transgender model hired by L'Oréal.
<blockquote>"Honestly, I don't have energy to talk about racial violence of white people any more. Yes ALL white people. Because most of ya'll don't even realize or refuse to acknowledge that your existence, privilege and success as a race is built on the backs, blood and death of people of color. Your entire existence is drenched in racism. From micro-aggressions to terrorism, you guys built the blueprint for this sh*t. Come see me when you realize that racism isn't learned, it's inherited and consciously or unconsciously passed down through privilege. "Once white people begin to admit that their race is the most violent and oppressive force of nature on Earth … then we can talk." </blockquote>
https://townhall.com/columnists/johnhawkins/2017/09/02/liberals-dont-get-to-have-it-both-ways-with-white-americans-n2376464
---
---
Rob Eno: Can we drop the charade that Jennifer Rubin is a conservative?
Jennifer Rubin is not a conservative, and the Washington Post's charade of promoting her as one undermines the conservative movement. But then again, they probably know that.
https://www.conservativereview.com/articles/can-we-drop-the-charade-that-jen-rubin-is-a-conservative
---
William A. Jacobson: I'm so old, I remember when liberals compared Antifa to G.I.'s on D-Day
The Antifa role in Charlottesville violence was widely glorified among liberals, who posted memes on social media comparing Antifa to the American soldiers who stormed the beaches at Normandy.
The tide began to turn after Boston Antifa riots in opposition to a free speech event, where it was clear to the cameras that Antifa didn't need actual fascists in order to beat people up.
Since then, there has been increasing liberal condemnation of Antifa.
A Politico report today, however, should blow the lid off the notion that Antifa violence was just a reaction to Trump or Charlottesville. To the contrary, Homeland Security and FBI documents reveal internal warnings about Antifa violence and domestic terrorism going back to early 2016.
Federal authorities have been warning state and local officials since early 2016 that leftist extremists known as "antifa" had become increasingly confrontational and dangerous, so much so that the Department of Homeland Security formally classified their activities as "domestic terrorist violence," according to interviews and confidential law enforcement documents obtained by POLITICO….
http://legalinsurrection.com/2017/09/im-so-old-i-remember-when-liberals-compared-antifa-to-g-i-s-on-d-day/
---
---
Matthew Continetti: The Irrelevant Democrats 
Chuck Schumer is in a spirited mood. "This is going to be one of the biggest fights of the next three, four months," the Senate minority leader said recently of the coming debate over tax cuts. "And Democrats are ready for it."
No doubt they are. But the relevant question is: Does their readiness even matter? Last month Mitch McConnell said he planned to bring taxes to the Senate floor under the budget reconciliation procedure. That would bypass the filibuster. The bill could pass by majority vote. No Democrats required.
And Republicans are unlikely to experience the defections over taxes that doomed them on health care. The health bill was a mess, a product of Republican confusion and infighting. There is no such uncertainty toward cutting taxes.
This is not to say that a cut is a done deal. Congressional Republicans may find a way to screw up. Fumbling the ball at the one-yard line is a specialty of theirs. But the prospect that GOP incompetence may rob the Trump administration of another legislative victory only underscores the fundamental point: Chuck Schumer's big words to the contrary notwithstanding, the Democrats are irrelevant to the power equation in Donald Trump's Washington.
http://freebeacon.com/columns/the-irrelevant-democrats/
---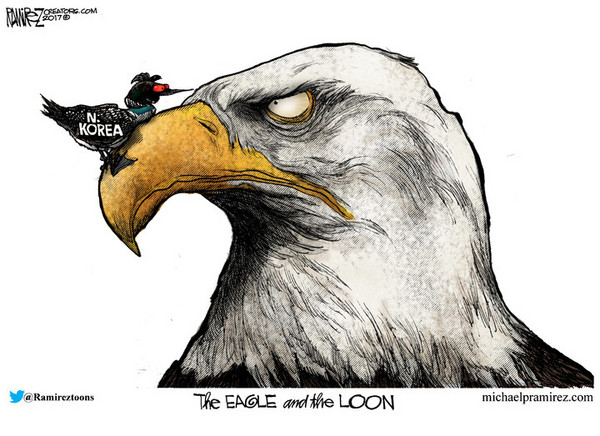 ---
Politicizing Charlottesville and Hurricane Harvey
How did we go, less than a week after racist violence in Charlottesville, Va., from removing statues of Robert E. Lee to talking about obliterating edifices honoring Ulysses S. Grant and Christopher Columbus?
The short answer is: "It's human nature." But I'll amplify.
"Disasters should not be politicized — it's about people's lives and getting their lives rebuilt," New Jersey Gov. Chris Christie was telling Fox News anchor Neil Cavuto the other day. Christie wasn't talking about the man-made mayhem in Virginia. He was talking about Hurricane Harvey. Yet in the next breath, he settled old scores against Texas senators and congressmen who voted against Hurricane Sandy relief.
http://www.ocregister.com/2017/09/02/politicizing-charlottesville-and-hurricane-harvey/
---
And last but far from least…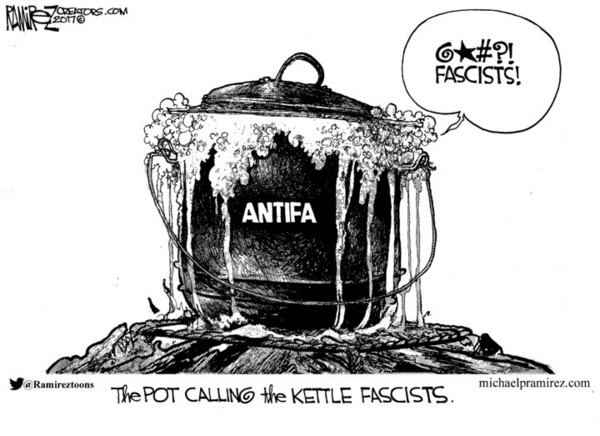 Enjoy your Sunday and Labor Day tomorrow. I can hear the griller crowd starting their engines all ready.