To celebrate this 4th of July I return once again to the wonderful cartoonists that I love. Their commentary is worth more and all the windbag politicians spouting rhetoric most didn't write, most don't believe and most don't understand. Ditto the media. Patriotism coming from them is insulting to every true patriot IMO.
So let the cartoons begin…
Independence Day greeting from John R. Rose, Byrd Newspapers of Virginia. Not one of my favorites most of the time but he did this holiday well.
Dave Granlund is not one of my favorite cartoonists when it come to political issues. But he always does great holiday cartoons.
I think this one from Steve Breen of the San Diego Union Tribune is great. If you look closely you see men, women, children and someone in a wheelchair. It would have been easier to just do generic stick men – he took the time to do it right. I salute him for that.
Okay maybe this one from Rick McKee is just a tad mean. Perhaps that's the best thing about it, other than being true.
Lisa Benson is not the only cartoonist that focused on how divided we are as a country. But she did it very, very well.
Doncha just love Dry Bones cartoons? This one reminded me of something we should all remember.
And then there is wonderful Bruce Tinsley and his fantastic Mallard Fillmore cartoons!
Here's another great Dave Granlund Independence Day cartoon. I don't like his politics much, or not at all usually, but he does great 4th of July!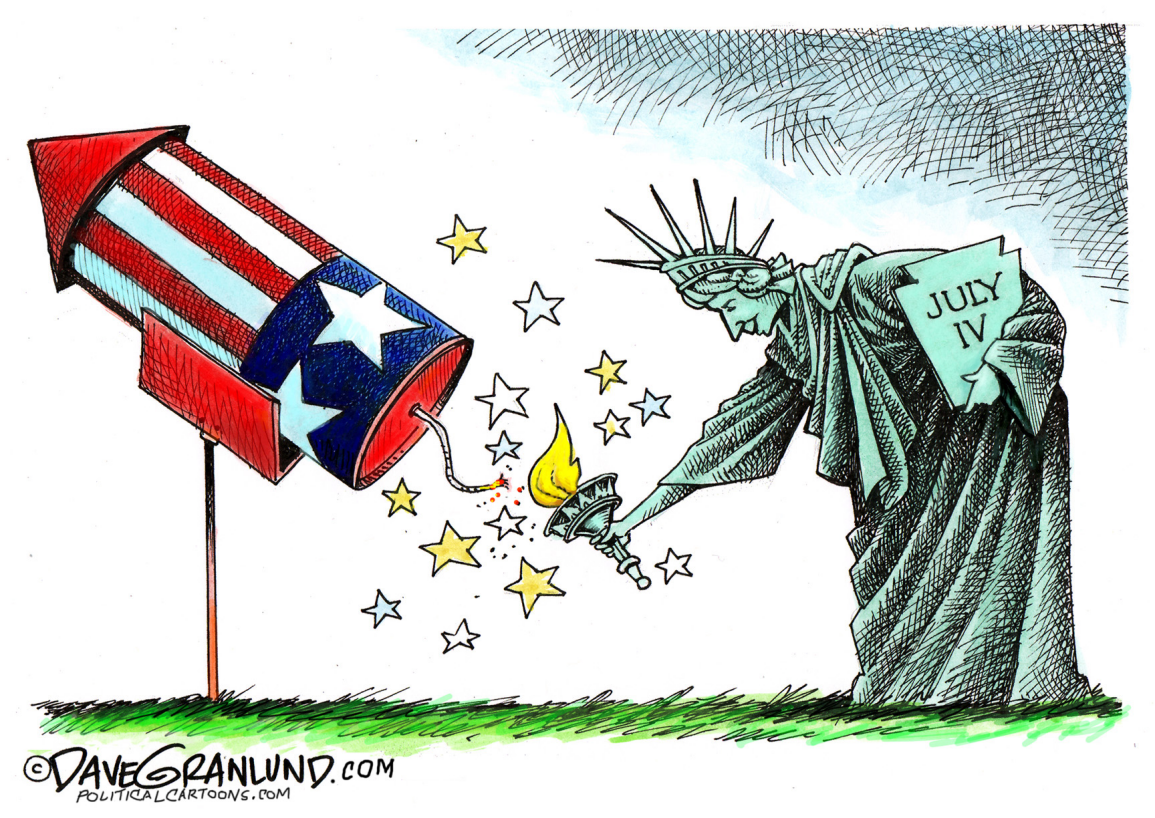 Brilliant Michael Ramirez skewers the political parties once again. And it's terrific IMO.
Walt Handelsman and his usual prescient commentary on the current culture.
Henry Payne with his talent for bringing the past and the present into a slightly skewed focus that is funny and real. He's a genius IMO. I also love his commentary.
Nate Beeler of the Columbus Dispatch also focuses on our divided nation.
Good fun with this cartoon from Joe Heller of the Green Bay Press-Gazette
I am a very big fan of A.F. Branco  but I find the following cartoon just a little too Trump fan club for me. Not that it isn't true.
Randy Bish reminds us of an eternal truth from on of our founding fathers.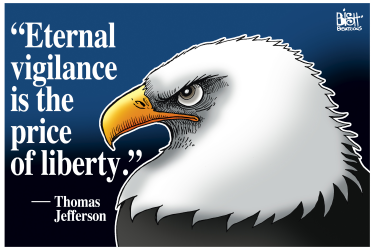 Jerry Holbert alerts us to an inconvenient fact. A fact that is beginning to be appartnet to a whole lot of Americans.
 Rob Rogers of the Pittsburgh Post Gazette reminds of us a sad fact we must confront. It affects all of us in one way or another.
Finally I leave you with this wish…