Witch's Will For Saturday
I will remain in "mourning" so long as Obama's unworthy ass sits in the Oval Office.

Quote of the day:

Cartoon of the day:

The Jokes On Us:
The Royal Court of Saudi Arabia has launched a website that will accept complaints against the government and send them directly to the king. You can even submit a second complaint if you want — using your remaining hand.


My Favorite Stories For Today:

Bombshell: State Dept. Knew Benghazi was a Terrorist Attack
Former CBS News reporter Sharyl Attkisson has uncovered an email indicating that the State Department knew at a very high level, immediately after the incidents, that the Benghazi attacks were conducted by a terrorist organization affiliated with al Qaeda.
The email, sent by Acting Assistant Secretary of State for the Near East Beth Jones, contradicts assertions made at the time by the White House and Secretary of State Clinton, Jones' boss, that the motivation for the attacks was a video.
From Attkisson's report, posted on her own website, sharylattkisson.com:
The email is entitled "Libya update from Beth Jones." Jones was then-Assistant Secretary of State to Hillary Clinton. According to the email, Jones spoke to Libya's Ambassador at 9:45am on Sept. 12, 2012 following the attacks.

"When [the Libyan Ambassador] said his government suspected that former Qaddafi regime elements carried out the attacks, I told him the group that conducted the attacks—Ansar Al Sharia—is affiliated with Islamic extremists," Jones reports in the email.

There is no uncertainty assigned to the assessment, which does not mention a video or a protest . . .

Among those copied on the email: Deputy Secretary William Burns; Under Secretary for Political Affairs Wendy Sherman; Jake Sullivan, then-Deputy Chief of Staff (now promoted to national security advisor to Vice President Joe Biden); Under Secretary of State Patrick Kennedy; Cheryl Mills, then-Secretary Clinton's Chief of Staff (now on the board of directors of the global investment firm BlackRock); and Victoria Nuland, then-State Dept. spokesperson (now promoted to Asst. Secretary of State) . . .

Another State Department email sent at 5:55pm on Tues. Sept. 11, 2012, while the attacks were underway, includes a report that "the extremist group Ansar Al Sharia has taken credit for the attack in Benghazi" and that U.S. officials asked the offices of the [Libyan] President and [Prime Minister] to pursue Ansar al Sharia."
This will take some explaining.
http://www.whitehousedossier.com/2014/05/02/bombshell-state-dept-knew-benghazi-terrorist-attack/
Take some explaining? Not really. Just more spin, outright lies and obfuscating. With media leading the way. After all they didn't get where they are today by telling the truth or by having a watchdog media to protect the public.


Who Pushed the Video to Excuse Benghazi? These Two People are the Likeliest Suspects.
These two people are the likeliest suspects
    by Bryan Preston
Former Obama National Security Council spokesman Tommy Vietor dropped a mini-bombshell on Fox last night. We've already gone over his surfer boy treatment of the politicizing of the terrorist attack that left four Americans dead.
During the same interview, Vietor disclosed a fact that up to now had been elusive: Where was President Barack Obama on the night of the Benghazi attack? Vietor did not disclose where Obama was, but he did disclose where Obama was not.
Vietor tells Fox's Bret Baier that he, Vietor, was in the White House Situation Room during the assault. Baier asks Vietor a straightforward question: "Where was the president?"
Vietor responds, "In the White House," before he dismisses the notion that the White House could tell what was happening from the real-time video feed provided to it by a drone orbiting over the scene in Benghazi.
Baier asks again, "Where was the president?"
Vietor responds, "In the White House."
Baier: "He wasn't in the Situation Room?"
Vietor dodges: "At what point in the evening?"
Baier asks, "At any point in the evening."
Vietor refuses to place President Obama at any specific place in the White House, but allows that the president was not in the Situation Room, where the video feed and other information from the ongoing battle were being gathered and examined.
President Obama practically posed for the iconic photo that was taken in the Situation Room during the raid that killed Osama bin Laden, three years ago today. That photo showed an image that the president wanted broadcast: That he was in charge when bin Laden was eliminated.
There is no such photo from the night of the Benghazi attack because Barack Obama was elsewhere, doing something else, while the assault unfolded and four Americans died.
At 10 p.m. on the night of the attack, Obama emerged from whatever he was doing to speak with then Secretary of State Hillary Clinton by phone.
Eight minutes after that, the State Department released a statement that is no longer on its website, but has been preserved by the New York Times. That statement links the YouTube video to the ongoing coordinated terrorist attack in Benghazi.
I condemn in the strongest terms the attack on our mission in Benghazi today. As we work to secure our personnel and facilities, we have confirmed that one of our State Department officers was killed. We are heartbroken by this terrible loss. Our thoughts and prayers are with his family and those who have suffered in this attack.

This evening, I called Libyan President Magariaf to coordinate additional support to protect Americans in Libya. President Magariaf expressed his condemnation and condolences and pledged his government's full cooperation.

Some have sought to justify this vicious behavior as a response to inflammatory material posted on the Internet. The United States deplores any intentional effort to denigrate the religious beliefs of others. Our commitment to religious tolerance goes back to the very beginning of our nation. But let me be clear: There is never any justification for violent acts of this kind.

In light of the events of today, the United States government is working with partner countries around the world to protect our personnel, our missions, and American citizens worldwide.
Emphasis added.
Both Barack Obama and Hillary Clinton had motive and opportunity to start blaming anything but their own policies and their own decisions for Benghazi as quickly as possible, as I'll explain on the next page.
more: http://pjmedia.com/tatler/2014/05/02/who-pushed-the-video-to-excuse-benghazi-these-two-people-are-the-likeliest-suspects/?singlepage=true


About Trey Gowdy:
I am a huge Trey Gowdy fan. I believe he is one of the few people in Washington D.C. with any integrity or honesty. He is also smart and knows the "law" like few others do. When he questions someone – they are questioned! The news that he is to chair the Select Committee on Benghazi is music to my ears. 
I thought I would post a little about this brilliant man. IMO, Trey Gowdy is all the things that the left claimed for Obama and which proved not to be true.
Don't disappoint me Trey by having feet of clay.
Harold Watson "Trey" Gowdy III (born August 22, 1964) is an American politician who has been the U.S. Representative for South Carolina's 4th congressional district since 2011. He is a member of the Republican Party. The district includes much of the Upstate region, including Greenville and Spartanburg.
Before his election to Congress, he was the solicitor (district attorney) for the state's Seventh Judicial Circuit, comprising Spartanburg and Cherokee counties. From 1994 to 2000, he was a federal prosecutor with the U.S. Attorney for the District of South Carolina.
Gowdy was born in Greenville, but grew up in Spartanburg and currently calls Spartanburg home. He is the son of Novalene (née Evans) and Dr. Harold Watson "Hal" Gowdy, Jr.[1][2] Trey graduated from Spartanburg High School in 1982. He earned a B.A. in history from Baylor University in 1986. He was a member of Kappa Omega Tau, a service/social Fraternity while at Baylor University. He earned a J.D. degree from the University of South Carolina School of Law in 1989. In law school, he was a member of the scholastic honor society "Wig and Robe."
Gowdy and his wife Terri have two children: Watson and Abigail. Watson is a junior in college and Abigail is a 11th grader. His cousin Joey Paul Gowdy is an actor and producer in the entertainment business. Terri Dillard Gowdy is a teacher's aide in Spartanburg School District.
Legal career
Following law school, he clerked for the late John P. Gardner on the South Carolina Court of Appeals and United States District Court Judge Ross Anderson. He then went into private practice before becoming a federal prosecutor in April 1994. He was awarded the Postal Inspector's Award for the successful prosecution of J. Mark Allen, one of "America's Most Wanted" suspects.
In February 2000, he left the United States Attorney's Office to run for 7th Circuit Solicitor. He defeated incumbent Solicitor Holman Gossett[3] in the Republican primary. No other party even put up a candidate, ensuring his election in November. He was reelected in 2004 and 2008, both times unopposed. During his tenure, he appeared on "Forensic Files" twice, as well as Dateline NBC and SCETV.[4] He prosecuted the full gamut of criminal cases including 7 death penalty cases.
When the state faced a budget crunch that forced many employees to go on unpaid furloughs, Gowdy funneled part of his campaign account into the solicitor's budget so his staff could keep working.[5]
Congressional elections
In the summer of 2009, Gowdy announced that he would challenge incumbent Republican U.S. Congressman Bob Inglis in the Republican primary for South Carolina's 4th congressional district. Inglis, who got a 93% lifetime rating from the American Conservative Union, angered the conservative wing of the Republican Party by taking stances that were perceived to be more moderate than those he'd taken when he'd first represented the district from 1993 to 1999.[6] For instance, he'd angered conservatives in his district when he supported cap and trade as a result of his belief that global warming is man made.[7] He drew five Republican challengers, and Gowdy was one of them. Like most of the challengers, Gowdy ran well to Inglis' right.[6] In the June 2010 primary, Gowdy ranked first with 39% of the vote, short of the 50% majority threshold to win outright and avoid a run-off. Inglis received 27% of the vote. Jim Lee got 14%, State Senator David L. Thomas got 13%, and former Historian of the United States House of Representatives Christina Jeffrey was last with 7% of the vote.[8][9]
In the run-off election, Gowdy defeated Inglis 70%-30%.[10] The 4th is so heavily Republican that it was widely presumed Gowdy had assured himself of a seat in Congress.[11] Gowdy defeated Democratic nominee Paul Corden 63%-29%.[12]
Gowdy ran for re-election to a second term against Democrat Deb Morrow.[13] Gowdy was slightly disappointed[citation needed] when initial versions cut part of his home county, Spartanburg County, out of the district (though the final map moved part of Greenville County to the 3rd and left all of Spartanburg County in the 4th). However, he was satisfied because Greenville and Spartanburg counties remained together. Roll Call rated his district as Safe Republican in 2012.[14] Gowdy won re-election to a second term, defeating Morrow 65%-34%.[15]
Congressional tenure
Gowdy considers himself to be a "constitutional conservative."[citation needed] In August 2011 during the 2011 United States debt ceiling crisis, Gowdy opposed Speaker John Boehner's debt limit bill, and he voted against the final debt ceiling agreement.[16] He also opposed the 2011 defense authorization bill, citing concerns about the prospect of Americans being detained without trial on national security grounds.[17] In December 2010, he told Congressional Quarterly that he would only support a measure if its sponsor can demonstrate that the Constitution gives the government the power to act in a particular realm.[5]
Gowdy worked on the Committee on Judiciary, the Committee on Oversight and Government Reform, and the Committee on Education and the Workforce. Gowdy frequently speaks on the floor of the House on issues ranging from Fast and Furious to his support for the reauthorization of the Violence Against Women Act.
In 2012, he received the Defender of Economic Freedom award from the fiscally conservative 501(c)4 organization Club for Growth. The award is given to the members of Congress who have the year's highest ranking, according to the Club for Growth's metrics. Gowdy scored 97 out of 100, and was one of 34 congressmen given the award.[18]
An ardent social conservative, Gowdy considers himself "pro-life plus." He not only believes "in the sanctity of life," but argues that "the strategy should be broader than waiting for the Supreme Court to revisit Roe v. Wade."[19]
Trey Gowdy signed the Contract From America, which aims to "Defund, repeal and replace the recently passed government-run health care" (otherwise known as the Afforadable Care Act, or ACA.).[20][21]
Legislation
On March 4, 2014, Gowdy introduced the ENFORCE the Law Act of 2014 (H.R. 4138; 113th Congress) into the House.[22] The bill would give the United States House of Representatives and the United States Senate both the standing to sue the President of the United States in a federal district court to clarify a federal law (that is, seek a declaratory judgment) in the event that the executive branch is not enforcing the law.[23][24] House Republicans argued that the bill was necessary because the Obama Administration refused to enforce the laws.[25]

Media Malpractice:
CBS Evening News Finally Notices Benghazi Emails; Discloses Exec.'s Family Tie to White House
    by Matthew Balan
On Friday, CBS Evening News caught up with its Big Three competitors and reported on the latest developments on the controversy surrounding the September 2012 terrorist attack on the U.S. facility in Benghazi, Libya. CBS also finally mentioned its own president's family connection to a White House official involved in the Obama administration's handling of the immediate aftermath of the attack.
Nancy Cordes gave a full report on how the "the White House released previously unseen e-mails" about the federal government's response to the terrorist strike, which led to House Speaker John Boehner forming a new select committee to investigate the attack. Scott Pelley also disclosed that "Ben Rhodes, the White House deputy national security advisor mentioned in Nancy's story, is the brother of CBS News President David Rhodes."
more: http://newsbusters.org/blogs/matthew-balan/2014/05/02/cbs-evening-news-finally-notices-benghazi-emails-discloses-execs-fami#ixzz30eKs59FG



Clyburn: 'I Don't Know' if Clarence Thomas is an Uncle Tom
Shame on Clyburn! I hope his damn book bombs!

The Jokes On Us:
This year the Colorado symphony will host a bring-your-own-marijuana concert series, called "Classically Cannabis." Or if you don't like classical music, you can attend the bring-your-own-marijuana concert called "any other concert."


Worth a Read:
The GOP Base Isn't Pining For Jeb
By Amy Walter
more: http://cookpolitical.com/story/7180
The Insiders: The White House is taking a pounding from all sides
By Ed Rogers
link: http://www.washingtonpost.com/blogs/post-partisan/wp/2014/05/01/the-insiders-the-white-house-is-taking-a-pounding-from-all-sides/
You have to wonder if this isn't when some really big mistakes will be made. The Obama White House has little experience with dealing with an even semi-hostile media. Now that some few have decided that it just might be their job to "report" the news and not to cover Obama's ass – things could get very interesting.
Obama, a lame duck for 33 months?
link: http://www.cnn.com/2014/05/01/opinion/gergen-lame-duck-obama/index.html
Why Liberals Think Conservatives Are Racist
By Rachel Lu
link: http://thefederalist.com/2014/05/02/why-liberals-think-conservatives-are-racist/
Shellacking II: The Sequel
The 2014 election was decided before Obama's second term began
By Matthew Contenetti
link: http://freebeacon.com/columns/shellacking-ii-the-sequel/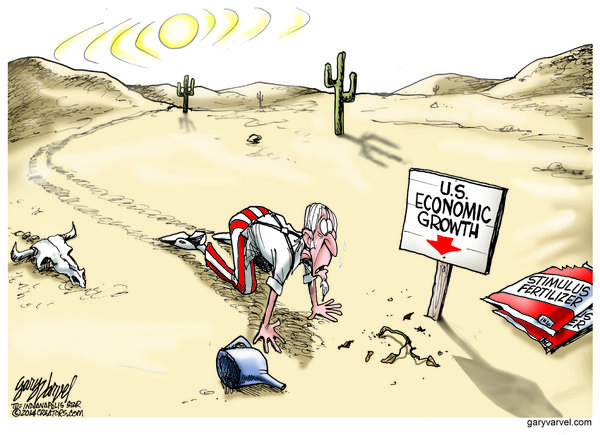 BOB BECKEL LOSES IT – Admits Benghazi Was a Cover Up, Screams "So What?"
Beckel proves what I've always thought – he has no integrity and he's a giant hypocrite. As Bolling attempted to say, if this was a Republican Administration Beckel would be pounding the table and calling them names.
I really see no benefit to having Beckel on the program other than to show, repeatedly, him as a low life. He and others like him apparently have no integrity whatso ever. Disgusting.