Witch's Will For A Snowy February Morning
My Pick of the Litter Today
Blame Game Rages on Over Looming Sequester
 by Jonah Goldberg
We are just days away from a cataclysm of biblical proportions. The cuts foretold in the Budget Control Act of 2011 are young as far as prophecies go, but apparently they are every bit as terrifying as rivers of blood and plagues of locusts. Any day now we can expect White House spokesman Jay Carney to take to the podium and read a prepared statement: "And when he opened the seventh seal, there was a small decrease in the rate of increase in federal spending."
The great game in Washington is who will get the blame for something both House Speaker John Boehner and President Obama agree will be calamitous for the country. It is an argument so idiotic it could only pass for seriousness in Washington. The Republicans correctly note that the president proposed the sequester. In fact, back when the president believed that Republicans were more terrified of these automatic budget cuts than Democrats were, he pretended that he would veto any attempts to get rid of them that didn't give him even more of the tax hikes he holds so dear. Now that Republicans have already agreed to a tax hike, they'll be damned if they'll raise them even more.
Fair enough. But the GOP agreed to the idea. This wasn't some elaborate con in which John Boehner wakes up thinking March 1 is a morning like any other, only to discover $85 billion is missing.
The GOP will probably lose the public relations battle over the sequester, because that's the Republicans' job in the age of Obama. A U.S. ambassador is murdered in a terrorist attack the administration ineptly responded to — and blamed on a video — but the only real story is that Republicans are so crazy, they want to know what happened. The president nominates a middle-brow pol to run the Defense Department, one who must recant all of his well-known views in order to get the job, and the story is how irrational the GOP is for caring. If the White House dispatched a drone to circle Boehner's home, the front-page story in The New York Times would be on the speaker's troubling paranoia.
But that doesn't mean Republicans should make the White House's job easier. Which is why it's good news that the House leadership is reportedly working on legislation that would force Obama to choose where the $85 billion in cuts should come from. Both the president and Boehner agree that the across-the-board cuts required by the sequester make no sense when most agencies can find less painful ways to trim a few pennies out of every dollar.
It's unlikely that Obama will take such a deal, since he and the Democratic-controlled Senate twice rejected legislation that replaced sequester cuts with more reasonable ones. Obama wants more tax hikes and thinks he can convince the country to accept them if the choice is between what he calls reasonable revenue increases and catastrophic cuts that will let people die in the streets, leave children to go hungry and illiterate, and allow poisoned food to sit rancid on supermarket shelves.
And he's not crazy for it. This strategy has worked time and time again. If an agency has a billion-dollar budget and someone proposes cutting a dollar from its scheduled increase in funding, that dollar will be the one earmarked for the screw needed to keep a bridge from collapsing on a grade school's Thanksgiving parade.
And that is what galls me. If the sequester goes into effect, the federal budget for this year will still be larger than last year's ($3.553 trillion in 2013 vs. $3.538 trillion in 2012). With the sequester in effect, federal non-defense spending will still be 10 percent higher than it was in 2008. But Washington, led by Obama but with GOP help, is telling the American people that unless government gets an even bigger raise (with money borrowed from China, by the way), civilization will unravel, 911 calls will find no purchase and Bane shall irrevocably seize control of Gotham.
The federal government has grown inexorably for decades. Our president casts himself a Solomonic manager, and yet he is saying that absent a few extra pennies on every dollar there's no way he can maintain government's core functions? A manager in any other field of human endeavor would be fired on the spot for making such an argument. But in Washington this passes for leadership.
http://townhall.com/columnists/jonahgoldberg/2013/02/22/blame-game-rages-on-over-looming-sequester-n1517732/page/full/
More Stuff:
Obama's Bad Brotherhood Bet
by Jonathan S.Tobin
For the last few months, conservative critics of the Obama administration's foreign policy have obsessed about its failure in Libya. The fiasco in Benghazi that took the lives of four Americans including our ambassador deserved more media scrutiny and Republicans are right to continue to demand answers about it. But the unfolding disaster next door in Egypt is a far greater indication of the way the president has blundered abroad than even that tragic episode. Obama's decision to force the Egyptian military to accept a Muslim Brotherhood government in Cairo and Washington's subsequent embrace of Mohamed Morsi's regime has materially aided the descent of the most populous Arab country into the grip of an Islamist party. The Brotherhood regime is determined to extinguish any hope of liberalization in Egypt and its drive to seize total power there is a direct threat to regional stability and Middle East peace.
Rather than using the leverage that the more than $1 billion in U.S. aid to Egypt gives it, the administration has loyally stuck to Morsi despite his seizing of powers that are comparable to those of deposed dictator Hosni Mubarak and his efforts to violently repress the widespread dissatisfaction with his government. There is no sign that anyone in the State Department or the White House realizes that the U.S. bet on the Brotherhood is a disaster, but yesterday's column by one of the leading peddlers of conventional wisdom on foreign policy ought to concern Morsi. If the Islamists have lost Thomas Friedman, then there is at least a little hope that their campaign to swindle American liberals into backing them is going to eventually crash.
In yesterday's New York Times, Friedman did something we haven't seen much of in that newspaper: tell the truth about the Brotherhood's intentions and its ideological drive to transform Egypt. While the paper's news pages and fellow columnists like Nicholas Kristof have bought into the baloney the Brotherhood has served up to foreign journalists about their moderation and desire for democracy and progress, Friedman made it clear that their tyrannical impulse is no aberration. Even more important, he made it clear that the Obama administration's apparent belief that they can reinvent the modus vivendi that formally existed between the U.S. and Mubarak with Morsi is a terrible mistake.
more: http://www.commentarymagazine.com/2013/02/21/obama-bad-muslim-brotherhood-bet-egypt/
Pro-Carney Reporter Asks: 'Is Obama Too Mean to the Media, Or Are Reporters Just  Whiny?' He Picks (B)
In response to Politico's "Puppet Master" take on Obama and his stiff-arming of  the White House press corps, former White House reporter Matthew Cooper penned a piece  for The Atlantic titled "Is Obama Too Mean to the Media, or Are Reporters  Just Whiny? It's mostly the latter."
Cooper quoted from the Politico piece, that "Obama is a master at limiting,  shaping and manipulating media coverage of himself and his White House." He  asked: "Is this an affront to the First Amendment or whining? I lean towards the  latter."  But wait, there's more:
"Each administration takes greater liberties to spin the news than the one  before which is utterly unsurprising," Cooper claimed. "State and local  governments do the same. So do corporations. The real question is what's lost in  the process. Some but not much, I'd say."

Cooper mocked the demand for a Tiger Woods-and-Obama golf photo: "Get rolled  on Tiger Woods and pretty soon there are fewer interviews and what not. Stomp  your feet over something modest before it gets out of hand. I get it. As for the  other complaints, hey, grow up."
Why would Cooper be so harsh? After all, he's still smarting from being asked  to cooperate in the trumped-up Valerie Plame leak prosecution in the Bush years,  when he was one of those demanding White House reporters. Well, Cooper admitted  that he worked at Time for seven years with Jay Carney, now Obama's press  secretary. He got married in 1997 to Mandy Grunwald, one of the original Bill  Clinton bimbo-crushers, so press manipulation isn't frowned upon at his  house.
This came right after the "grow up" part:
One of the beefs with the White House is that they're  producing lots of content for media outlets — especially photos that can be run  in newspapers. As my former colleague Brooks Kraft, a Time photographer, notes,  "White House handout photos used to be reserved for historically important  events — 9/11, or deliberations about war," Kraft said, allowing "I don't blame  the White House for doing it, because networks and newspapers use them. So the  White House has built its own content " But for Politico to cite this as master  manipulation seems overwrought. If the press corps doesn't spring for an AP  photo, that's not the White House's fault.
Cooper's ignoring that the "geniuses" inside the White House have also  manipulated the AP photographers!
more:  http://newsbusters.org/blogs/tim-graham/2013/02/22/pro-carney-reporter-asks-obama-too-mean-media-or-are-reporters-just-whin#ixzz2Ld0FOVNm
Why Do Democrats Hate American Manufacturers?
 by Michelle Malkin
Here's the latest example of head-splitting cognitive dissonance in Washington: President Obama used his State of the Union address to crusade for a revitalized U.S. manufacturing sector. But while he pays lip service to supporting businesses that build their products on American soil, Obama and his left-wing operatives are hell-bent on driving a key sector of the U.S. manufacturing industry six feet under: the American firearms and ammunition industry.
The White House is pushing new government spending to "spur economic growth," protect manufacturing plants and "create good-paying jobs" to help America's middle class. Yet across the country, with aggressive lobbying by the White House itself, Democrats are working to destroy tens of thousands of good-paying jobs and the firms that created them. Assault rhetoric has lasting real-world consequences.
In New York, Democratic Gov. Andrew Cuomo imposed radical, ineffectual gun-grabbing measures that are backfiring in more ways than one. Nearly half a dozen gun companies have now announced that they will no longer sell their products to police in the Empire State. In protest of Cuomo's gun-control regime banning citizens from owning semi-automatic rifles or shotguns because of cosmetic features deemed "military-style," Washington-based Olympic Arms "will no longer be doing business with the State of New York or any governmental entity or employee of such governmental entity within the State of New York."
According to USA Today, other companies including "LaRue Tactical, York Arms, Templar Custom and EFI, as well as sporting-goods retailer Cheaper Than Dirt" have also joined the sales boycott of New York.
Worse news for New York citizens: At least one local manufacturer, the storied Remington Arms Company founded in Ilion, N.Y., in 1816, is in dire financial danger as a result of Cuomo's draconian regulations. The company's innovations in weaponry and ammunition have been used in sporting, self-defense, law enforcement and warfare for two centuries.
Now, as a result of hysteria-induced government pandering, nearly 40 percent of Remington's weapons can no longer be sold to citizens legally. Its small-town plant employs more than 1,300 people in a town of 8,000 and generates revenue of an estimated $400 million from sales in the U.S. and 55 other countries. As an Ilion local official noted, "Remington is not only a major employer, but it's a historic employer. It's been part of our very fiber for 200 years."
more: http://townhall.com/columnists/michellemalkin/2013/02/22/why-do-democrats-hate-american-manufacturers-n1517619
What's Up With the Democrats?
Rumored Energy pick stirring fears on left
President Obama's rumored choice for Energy secretary is giving heartburn to  some in the environmental movement.
Ernest Moniz, a physicist at the Massachusetts Institute of Technology and  familiar presence in Washington, has emerged as the front-runner to replace  Steven Chu as Obama's energy chief.
That's not sitting well with green advocates, who say Moniz's support for  natural gas is at odds with the risks of "fracking," the controversial drilling  process, and the need for tough steps to address climate change.
"Moniz is a status quo pick at a time when we can't afford the status quo," said Tyson Slocum, who heads the energy program at Public Citizen.
more: http://thehill.com/blogs/e2-wire/e2-wire/284331-rumored-energy-pick-stirs-fears-on-left
What Up With Republicans?
Sanford loses key endorsements in SC
Two conservative lawmakers have endorsed South Carolina state Sen. Larry  Grooms (R) over former Gov. Mark Sanford for an open House seat.
Reps. Jeff Duncan (R-S.C.) and Mick Mulvaney (R-S.C.) both endorsed Grooms to  succeed Sen. Tim Scott (R), who left the House with his appointment to the upper  chamber.
The endorsements are a blow to Sanford, who hopes to return to the House and  revive a once promising political career. Sanford completed his second term as  governor but left office in disgrace after an extramarital affair led to his  resignation as chairman of the Republican Governors Association and his  divorce.
more: http://thehill.com/blogs/ballot-box/house-races/284257-reps-duncan-mulvaney-endorse-sanford-opponent-for-congress#ixzz2LdLL6dPu
I cannot for the life of me understand why any Republican would support this cheating POS. Not only was he a cheater, his rhetoric sounded more like an adolescent than an adult. Now that he's lost his career, and evidently his "soul mate" in Brazile, he wants to come back and play politics again. My response would be…
  SOMETHING TO BRING A SMILE …
Government by Freakout
Obama's scare tactics aren't much of a long-term strategy.
  by Peggy Noonan
The president's sequester strategy is like Howard Beale in "Network": "Woe is us. . . . And woe is us! We're in a lot of trouble!"
It is always cliffs, ceilings and looming catastrophes with  Barack Obama. It is always government by freakout.
That's what's happening now with the daily sequester warnings. Seven hundred thousand children will be dropped from Head Start. Six hundred thousand women and children will be dropped from aid programs. Meat won't be inspected. Seven thousand TSA workers will be laid off, customs workers too, and air traffic controllers. Lines at airports will be impossible. The Navy will slow down the building of an aircraft carrier. Troop readiness will be disrupted, weapons programs slowed or stalled, civilian contractors stiffed, uniformed first responders cut back. Our nuclear deterrent will be indefinitely suspended. Ha, made that one up, but give them time.
Mr. Obama has finally hit on his own version of national unity: Everyone get scared together.
more: http://online.wsj.com/article/SB10001424127887324503204578318540475371284.html?mod=WSJ_Opinion_LEADTop
There is of course Obama's primary tactic about everything negative, blame the Republicans. How can anyone support, let alone worship, this petty, puny little man? That the vast majority of the AA community does tells me something about them. They care far more about the color of someone's skin than they do about character and competence. So who are the racists?
Jobless Claims Jump Higher Than Expected
The Labor Department reported this morning that initial jobless claims jumped this week by 20,000, rising to 362,000. Economists had been expecting a slight increase to 355,000. The four-week moving average, a less volatile measure, also moved up to 360,000. The jobless claims number largely has been stuck in the 350-400,000 range since the Fall of 2011.
Initial jobless claims are a good proxy for the overall labor market, as they provide real-time data on layoffs and firings. Claims above 400,000 generally signal a contracting job market. Claims around the 300,000 level signal an expansion of hiring. The levels posted over the past year and a half suggest a stalled labor market.
Since the end of the recession, the economy has been unable to create the 250,000/month jobs necessary to keep pace with population growth. Last year, the economy added far less than that, averaging just around 183,000 jobs a month. This week's report suggests the economy is still far from the job creation levels needed to ensure a strong recovery.
more: http://www.breitbart.com/Big-Government/2013/02/21/jobless-claims-jump-higher-than-expected
On the Dangers of Listening to Joe Biden
In April 2009, Politico dryly reported that Vice President Joe Biden had once again tripped over his words: "These sorts of comments are what the Obama administration fears from Biden, who after more than three decades in Washington is known for making gaffes." It sounded like it must have been harmless enough–if this is what the administration "fears" from Biden, but nevertheless chose him to be a heartbeat away from the presidency, it couldn't have been much more than an honest mistake or maybe an unintentionally offensive comment, the latter being Biden's specialty.
In fact, Biden's comment was a suggestion that with the so-called swine flu spreading, this was the appropriate moment for the entire country to panic, assume a bunker mentality, and perhaps–just to be safe–put mass transit out of business during a global economic crisis when unemployment in the United States was 9 percent and rising:
White House Press Secretary Robert Gibbs issued an apology Thursday for Vice President Joe Biden's comments that he wouldn't recommend taking a commercial flight or riding in a subway car because swine flu virus can spread in confined places.

"Obviously, if anybody was unduly alarmed for whatever reason, we would apologize for that. And I hope that my remarks and remarks of people at CDC and Secretary Napolitano have appropriately cleared up what he meant to say," Gibbs said during the daily briefing at the White House.
Just to be clear: that was the president's press secretary reminding the press that Biden's comments necessitated statements of correction and clarification from the head of the Department of Homeland Security and the Centers for Disease Control. It's why, as popular and productive as Biden can sometimes appear, American voters have generally been unwilling to vote for Biden for president. (He's given them plenty of chances by now, and a recent poll out of Iowa shows him trailing Hillary Clinton by a modest 50 points.)
But Biden may have topped that one. Ed Morrissey points out that Biden's recent exhortation to Americans to buy and fire into the air a double-barrel shotgun for defense was pretty terrible legal advice, as well as counterproductive from a safety standpoint:
Anyone who has gone through a firearms safety course knows this basic rule: Never fire a "warning shot" into the air — especially when it means you have to reload immediately, as you would with two blasts from a double-barreled shotgun; you've just effectively disarmed yourself.

But more to the point, it ignores the physics of the ammunition.  What goes up must come down, and when it does, it can kill — and often does….
Morrissey goes on to quote today's U.S. News and World Report story explaining that "this specific behavior has been the cause of many negligent homicides over the years," according to a gun-rights activist. It would land the unfortunate soul who took the vice president's exceedingly unsafe and ill-conceived advice in big legal trouble: "aggravated menacing, a felony, and reckless endangering in the first degree," according to the story.
Morrissey closes with a fair question:
If Biden doesn't have the common sense to understand any of the above, let alone all of the above, why should anyone trust his efforts to rewrite gun laws that limit our legal rights to self-defense?
The good news on that front is that Biden would "write" gun legislation about as much as Obama "wrote" health care reform legislation. That is to say, he wouldn't write a word of it, and probably wouldn't actually know what's in it without a neat, one-page talking point summary provided by the same people who have to periodically go before the public and remind people how thoroughly dangerous–and at times, illegal–it is to follow the advice of their vice president.
http://www.commentarymagazine.com/2013/02/21/on-the-dangers-of-listening-to-joe-biden/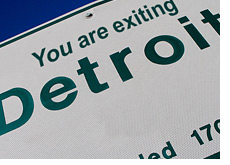 Detroit Gave Unions Keys To The City, And Now Nothing Is Left
We keep hearing that the car industry in Detroit is "on the rebound" or that "Detroit is back." In fact, the city itself is on its back, and it's bounding toward bankruptcy or a state takeover. How did one of America's most storied cities land in this predicament? While the city population has shrunk (from a peak population of 1.8 million in 1950 to 714,000 in the last census), it has hardly reduced the government that serves it. All you really need to know about Detroit, which is facing a $327 million budget gap, is that last year it was discovered to still be paying for a "horseshoer" (or farrier) on the Detroit Water & Sewer Department (DWSD) payroll. This individual costs some $56,000 in pay and benefits, despite the city not having any horses to shoe in his department.
Union bosses insisted the DWSD (average compensation: $86,000) needs more, not fewer, such unionized employees, a view associated with a broad spectrum of thinkers from Jimmy Hoffa to the Keynesians running the United States. The DWSD has more than twice as many employees per gallon of water pumped as that other paragon of Midwestern governance, Chicago. An independent report said four out of five employees in the bloated department were redundant and discovered a thicket of union regulations driving up costs. Plumbers complained that, due to union work rules, they had to wait to fix pipes until duly authorized "operators" came along first to shut them off.
The Detroit Federation of Teachers, which enjoys rich pay packages (corrected for purchasing power, Michigan teachers are the best paid in the nation, reported the Mackinac Center for Policy Policy), would do the UAW proud. Its employees pay only ten percent of the cost of their insurance premiums. While they take extravagant numbers of sick days or personal days — 8 per teacher — they also cash in on "unused sick days" to the tune of $14.5 million a year. What other industries are so surprised when you aren't sick that they pay you a bonus? Then again, we're talking about a group that paid people to quit — $4.1. million in "termination bonuses" were handed out to teachers' union members in 2010-2011. And last December the city inexplicably sent out archaic "longevity bonuses" ranging from $150 to $750 depending on years of service for non-union municipal employees, even though the benefit was removed for unionized employees in 2009.
The Detroit Service Employees' International Union did even better, soaking individuals for its own purposes. It arranged to corral thousands of people receiving Medicaid payments to care for sick friends or relatives into its union, for the purpose of charging these people dues, which it siphons directly from the Medicaid checks. So far SEIU has raked in $34 million this way.
From 2008 to 2011, health insurance costs for Detroit employees and retirees have jumped 62% to $186 million a year, the Detroit Free Press reported. Pension contributions in that period jumped 140 percent, from $50 million to $120 million.
more: http://www.forbes.com/sites/kylesmith/20….othing-is-left/
A prime example of what happens when the Dems and their Union bosses have their way. Detroit's rotting carcass should be a warning to all.
 It might even give some Democrat voters pause for thought, were it being reported by the corrupt MSM that refuses to tell the public the truth about liberal ideology.
A first step in sobering up Washington.
President Barack Obama clearly doesn't like how the threat of sequestration, an idea he owns [1] but now dishonestly wants to disown, is working out.
In a Tuesday speech, Obama went into campaign mode overdrive, claiming that — as summarized in a brilliant Tuesday evening Wall Street Journal editorial with the even better title "President Armageddon" — "if Republicans don't raise taxes in return for more spending, the world will end."
Despite a fiscal cliff deal which included $15 billion in spending "cuts" (actually "reductions in projected spending") and over $600 billion in tax increases, the president is still demanding more from "the wealthiest Americans and biggest corporations." Despite the fact that his administration's has spent 26 percent more during its first four years than the George W. Bush administration spent during its final four, Obama and Democratic leaders continue to insist that the federal government doesn't have a spending problem. Despite running up $5.9 trillion in additional debt, much of it driven by congressional and executive actions during Obama's first two years which have unfortunately never been reversed, Obama contemptuously refers to the "so-called debt ceiling."
As to the inane argument that a roughly 1.2 percent reduction in projected spending ($44 billion, not $85 billion, compared to annual spending of about $3.6 trillion) will all by itself, in Obama's words , "hurt our economy … add hundreds of thousands of Americans to the unemployment rolls … (and) the unemployment rate might tick up again," all of this is already happening. House Speaker John Boehner's current and hopefully future firm position  on sequestration has nothing to do with it.
The economy is already in a "hurt" condition. January's initial reading on the nation's gross domestic product (GDP) during last year's fourth quarter was that it contracted  by an annualized 0.1 percent. Though it appears that this number may go positive in subsequent revisions, the fact remains that the economy is closer to going back into recession than it has been at any other time since the last one officially ended three and one-half years ago.
Last week, Bloomberg News exposed  internal emails revealing how Walmart executives are nearly panic-stricken about early sales during its February reporting period, describing the results thus far as "a total disaster." I have separately confirmed that top management's serious concerns have been shared with frontline store managers.
The internal company correspondence largely blamed the slump on the end of the two percentage point Social Security payroll tax cut which had been in place for two years. Obama agreed to allow this effective tax increase on 77 percent of Americans [to happen during December's fiscal cliff negotiations, representing a complete about-face from his and his administration's warnings about the horrors which would ensue if reinstatement were to occur just ten months earlier.
link: http://pjmedia.com/blog/let-sequestration-happen/?singlepage=true
The Feds Want Your Retirement Accounts
Quietly,  behind the scenes, the groundwork is being laid for federal government  confiscation of tax-deferred retirement accounts such as IRAs. Slowly, the cat  is being let out of the bag.
Last  January 18th, in a little noticed interview  of Richard Cordray, acting head of the Consumer Financial Protection Bureau,  Bloomberg reported "[t]he U.S. Consumer Financial Protection Bureau [CFPB] is  weighing whether it should take on a role in helping Americans manage the $19.4  trillion they have put into retirement savings, a move that would be the  agency's first foray into consumer investments."  That thought generates  some skepticism, as aptly expressed by the Richard Terrell cartoon   published by American Thinker.
Days  later On January 24th President Obama renominated Cordray as CFPB director even  though his recess appointment was not due to  expire  until the end of 2013.
One  day later, in the first significant resistance to President Obama's  concentration of presidential power, a three judge panel of the U.S. Court of  Appeals in Washington DC unanimously said that Obama's  Recess Appointments to the National Labor Relations Board are  unconstitutional.  Similar litigation testing the Cordray appointment to  the CFPB is in the pipeline.
The  Consumer Financial Protection Bureau (CFPB) created by the 2,319 page Dodd-Frank  legislation is a new and little known bureau with wide-ranging powers.   Placed within the Federal Reserve, a  corporation privately owned by member banks, the CFPB is insulated from  oversight by either the President or Congress, its budget not subject to  legislative control.  It is not even clear that a new President can replace the CFPB  director  on taking office.
Unusual  legal and political environments have a  significant  impact on the CFPB. With Cordray's recess appointment in doubt several questions  remain unanswered.
1)  What will become of the CFPB when Cordray's appointment is found invalid?   An indicator comes from the NRLB, which operated unconstitutionally for years  without a quorum.  In 2007 the Senate threatened no NLRB nominations  reported out of committee.
The  NLRB continued operating with two members.  Then a Supreme Court ruling in  June of 2010 invalidated the NLRB decisions for lack of a quorum.  Fisher &  Phillips  give the details about what was done next.
But  recovery from the Supreme Court's sting was quick, with Liebman and Schaumber  still on the Board and with two new Members confirmed, … the suddenly  full-strength Board simply added a new Member to the "rump panel" of the  original decisions and managed to rubber-stamp many of the disputed Orders – at  a record-setting pace – with the same result…
This  may explain why President Obama renominated Cordray a year early.  Once  confirmed Cordray can rubber-stamp decisions made while he was  unconstitutionally appointed.  Otherwise those decisions will be  invalidated.
2)  What will the CFPB do with your money?  The CFPB incursion into individual  personal savings, in order to control how you invest your money, isn't a new  idea. Current proposals grew from a policy analysis as disclosed by Roger  Hedgecock.
On  Nov. 20, 2007, Theresa Ghilarducci, professor of economic policy analysis at the  New School for Social Research in New York, presented a paper proposing that the  feds eliminate the tax deferral for private retirement accounts, confiscate the  balance of those accounts, give each worker a $600 annual "contribution," assess  a mandatory savings tax on every worker and guarantee a 3 percent rate of return  on the newly titled "Guaranteed Retirement Accounts," or  GRAs.
How  would that be accomplished?  The Carolina Journal reported  Ghilarducci's 2008 testimony to Nancy Pelosi's House.
Democrats  in the U.S. House have been conducting hearings on proposals to confiscate  workers' personal retirement accounts "including 401(k)s and IRAs" and convert  them to accounts managed by the Social Security  Administration.
Your  Government universal GRA investment savings  account is an annuity managed by Social Security.  Hedgecock noted  '[m]ake no mistake here: Obama is after your retirement money. The "annuities"  will "invest" not in the familiar packages of bond and stock  mutual funds but in the Treasury debt!'
more: http://www.americanthinker.com/2013/02/the_feds_want_your_retirement_accounts.html#ixzz2LdGWI7cN
Why used cars are scarce – and expensive
Yes, Obama's Cash for  Clunkers program is definitely one reason used cars are in increasingly  scarce supply– and much pricier than they used to be. But another reason  relates to something liberals despise: "trickle down" economics or, in respect  to the increasing scarcity of used cars, the fact that low-income used car buyers do better when wealthier Americans (those  who can afford new cars) do better.
The reason used cars have  gotten increasingly scarce and expensive is the subject of a Wall Street Journal article, "Amid New Car  Boom, Used Cars Are Gold." Its observations are illuminating:
The  shortage of used cars stems from the deep plunge in new-car sales between 2008  and 2010, and the virtual disappearance of new-car leases during the financial  crisis. As a result, three-year-old cars are now hard to find and even older  models are holding their value.

Another  factor is a change by the three Detroit U.S. auto makers. To keep factories  humming, they once leased tens of thousands of new cars to rental car fleets and  then moved them onto dealer lots as used models after a few  months.

There  are fewer of those vehicles because manufacturers cut excess production capacity  in recent years. Cash-for-clunkers rebates also took many older vehicles off the  road.

The  scarcity has pushed up used car prices,  often to the point that consumers who finance a purchase with subsidized  interest rates can get brand new vehicles for about the same as a monthly  payment required for a late-model used car.

A  2013 Toyota Corolla LE now sells for about $18,000 new and a 2010 model costs  about $14,200. However, monthly payments would be about $300 for each, assuming  the new-car buyer gets Toyota's 1.9% for 60 months rate and the  used-car buyer pays a 5% or higher interest  rate.
A used car dealership in Texas once put up an  amusing ad on its billboard: "If you have a car, you can get a job!" Now, you  have to wonder how many Americans can no longer afford a used car – and are  suffering as a consequences or even unemployed. But, hey, look at this from the  perspective of Obama and Democratic elites. Fewer used cars means less pollution  and a greener planet. Like in Europe, more Americans  will thus ride bicycles and take the bus.
In the end, this benefits every  American – and even the entire planet.
http://www.americanthinker.com/blog/2013/02/why_used_cars_are_scarce_-_and_expensive.html#ixzz2LdJ3Qh3D 
  Forrest Gump at Treasury
Jack Lew doesn't seem to know much about how or why he got paid.
Senate Democrats are in a hurry to confirm Jack Lew as Secretary of the Treasury before anyone notices his biography. Otherwise, liberal lawmakers might be embarrassed voting for a man who represents everything they've been campaigning against.
Investor in Cayman Islands tax haven? Check. Recipient of a bonus and corporate jet rides underwritten by taxpayers at a bailed-out bank? Check. Executive at a university that accepted student-loan "kickbacks" for steering kids toward a favored bank? Check. Excessive compensation with minimal disclosure? Check.
more: http://online.wsj.com/article/SB10001424127887323949404578314412568158962.html
Worth a Read:
Students Who Refuse to Affirm Transgender Classmates Face Punishment
link: http://radio.foxnews.com/toddstarnes/top-stories/students-who-refuse-to-affirm-transgender-classmates-face-punishment.html
A Liberal Evangelical Resigns From AARP
link: http://spectator.org/archives/2013/02/22/a-liberal-evangelical-resigns
CNN: 'Private Grumbling' Among Democrats About Hagel
link: http://www.breitbart.com/Breitbart-TV/2013/02/21/CNN-Private-Grumbling-Among-Democrats-About-Hagel
Boo Hoo: MSNBC Hosts Are "Sad" Jesse Jackson Jr. Got Caught
link: http://townhall.com/tipsheet/danieldoherty/2013/02/22/boo-hoo-msnbc-hosts-are-sad-jesse-jackson-jr-got-caught-n1517867
QUOTE OF THE DAY:
  Americans have the right and advantage of being armed – unlike the citizens  of other countries whose governments are afraid to trust the people with  arms. ~ James Madison